Sanders County Sheriff speaks after Dixon killing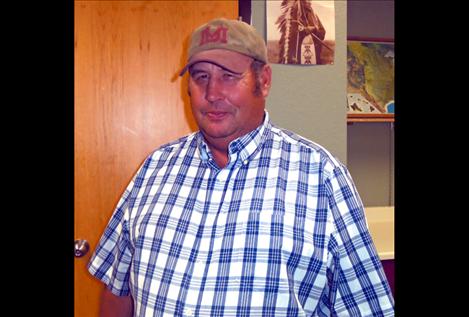 DIXON — In the days following the Dec. 6 Dixon home invasion that left Doug Morigeau dead and his wife Cheryl in critical condition, details on the attack have been difficult to come by.
Law enforcement officials and investigators were unusually silent or difficult to reach. Basic facts surrounding the crime and regarding motive, the possible involvement of drugs and alcohol and accused killer Nathan William Lee Calvert's demeanor while in court remain unavailable.
The Sanders County Attorney's Office continues to have no comment on the case. Charging documents filed in the courts contain little information or basic facts as to the killer's motive, state of mind, methodology, etc.
Press releases sent from the Sanders County Sheriff's Office contain little information and the Sanders County Attorney's Office continues to have no comment on the case.
Sanders County Sheriff Tom Rummel said that due to the nature of the incident and the sensitivity of the information, he was forced to be very "tight-lipped" regarding specific details lest he risk compromising the investigation.
Rummel said he could not comment on Calvert's motive, whether or not drugs or alcohol were involved, and could not speculate as to whether or not the victims knew Calvert.
"I know how frustrating it must be (for local residents,) but until we get further into this and I know what we can and cannot release, it's just too sensitive," he said.
Rummel added that it is always a wise idea to lock your doors and called the crime, "shocking," "a tragedy" and said it's hard to know how to prevent this kind of crime.
"We're all looking for justice," Rummel said. "That's what our job is, and I would hate to say something that would compromise the investigation in one way or another. If I could say more, I really would, but when you have have something of this nature happen and you have the suspect in custody, the last thing you want to do is compromise the investigation.
"When you go to court, you want to be golden."
Rummel also pointed out that the case is up to the prosecution now.
"As far as the Morigeau family, our thoughts and prayers are with them. This is a terrible tragedy to suffer and it's a very shocking thing to have to go through," Rummel said.
According to a press release, Sanders County Sheriff's Deputies, Tribal Law and Order and Lake County Sheriff's Deputies responded to a 911 call for a home invasion around 8 p.m. Dec. 6 in the Dixon area.
First responders found Doug Morigeau had been stabbed to death in his home on Highway 212. His wife, Cheryl Morigeau, was also injured and was transported to Harborview Medical Center in Seattle, Wash. She was released several days later.
Sanders County Coroner Kathy Harris confirmed Monday that Morigeau died of multiple stab wounds.
Police arrested 32-year-old Calvert, a Missoula resident, at the scene in connection with the murder. He remains in Sanders County Jail. According to Montana's Sexual and Violent Offender Registry, Calvert is a violent offender convicted of parter-family member assault on Dec. 9, 2010.
Calvert made his first court appearance Dec. 7 in Sanders County Justice Court in front of acting judge Joe Eisenbrandt. Calvert was charged with one count of deliberate homicide, a felony, which carries a penalty not less than 10 years in jail and not more than 100 years in jail.
Eisenbrandt said the prosecuting attorney has the option to pursue the death penalty.
Calvert was represented by a public defender and his bond was set at $1 million.
A preliminary hearing is scheduled in Sanders County District Court for Dec. 17 at 4 p.m.
Lake County Undersheriff Dan Yonkin said last month's stabbing in Arlee and this most recent crime appear to have no connection, and he believes them to be isolated incidents.
"We were requested to assist until (Sanders County) officers were able to get on scene," Yonkin said of the Dixon home invasion. "Our officers were there for security purposes and we assisted in apprehending the suspect, but that was the extent of our involvement."
Doug and Cheryl Morigeau were long-time employees of Two Eagle River School. The school will hold two events to benefit the Morigeau family. A dinner and auction at TERS will be held Dec. 19 and a quilt raffle will be held in Charlo Dec. 20.