Polson Airport project delayed due to lack of proper asphalt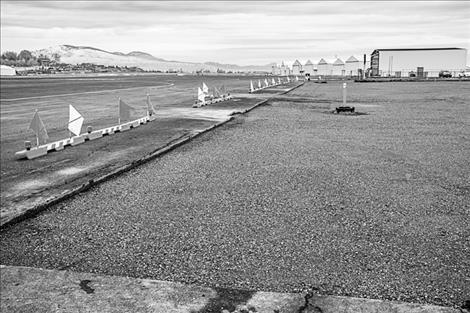 POLSON — A reconstruction project at the Polson Airport has been delayed.
The contractor, Bjorn Johnson Construction of Missoula, was unable to find a supplier for the type of asphalt required by the Federal Aviation Administration, project engineer Jeff Walla of KLJ Engineering said at the Polson City Commission's Nov. 6 meeting.
The project, which began in mid-August, was supposed to be finished by mid-October, Walla said. Originally slated to run six weeks, the project contained two change orders due to what he called "subgrade stability issues."
Walla said the contractor should have had a concrete supplier selected at the beginning of the project.
"We tried to get another contractor but the weather turned on us," he said.
Wally Congdon, Lake County's deputy civil attorney, said the asphalt required "is not as simple as road asphalt."
Walla said he contacted the surety bond company for the project, Lexon Insurance Surety Group of Tennessee.
Congdon said Lexon would like to find a mitigation technique.
"Jeff will have to figure out the best mitigation strategy," Congdon said, noting this will be dependent on the weather and finding someone with the right asphalt mix.
He noted that none of the $737,355 in grant funds from the FAA nor the $81,929 in matching funds from the Lake County Joint Airport Board will be dispersed "until we have something figured out" on how to proceed. Some $26,000 of finishing work and $293,000 of asphalt work is yet to be completed plus additional time and money for cost overruns, Congdon said.
Lake County Commissioner Bill Barron said the county and the contractor had settlement talks, but were unable to come to an agreement. "We're dealing strictly with the bonding company now," he said.
The project was to reconstruct the airport parking area and taxi lane and demolish a fixed base operator building that Airport Manager Vince Jennison used as an office and lobby.
Planes can still take off and land at the airport, Congdon said, but added that some who rent hangars will not be able to access them until the project is finished.
Last week, the city commission approved airport project amendments of $15,600 and $11,900 for KLJ Engineering for additional contract time related to the paving issue.