Two Eagle River School student receives national recognition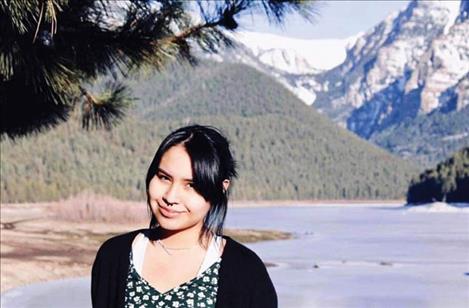 PABLO — A photography student at Two Eagle River School, Katie Medicine Bull, was selected as one of 20 students nationwide to have her art featured in a show at the acclaimed Getty Museum in Los Angeles.
Part of an open call for the joint "Reconnecting With" program between the community-focused organization Amplifier and Getty, "Unshuttered" meant to give teens a positive creative outlet during the challenges of the 2020s. Medicine Bull said the project came together rapidly.
"It was a short, but also kind of long process," Medicine Bull laughed. "It's surreal… it all happened so fast."
Photography teacher and Our Community Record program developer David Spear had heard about the open call back in January, and in April decided to put a student forward who he felt had been working steadily. So, he said, he approached Medicine Bull.
According to her mother Tracy, Medicine Bull had always been very creative, but as she was a new student Spear said this was his first opportunity to see it.
"She had been working really hard," Spear said. "She'd take the camera home and come back with work, really practicing and engaged at a pretty serious level for someone who had just started doing photography."
"I grew up doing art, but it just sort of evolved over time (to photography)," Medicine Bull said.
The "Reconnecting With" project website explains it sought students' photographs capturing who or what they are reconnecting with at this point in their lives, be it with themselves, nature, values, creativity, or anything else. As Spear and Medicine Bull sat down to discuss her submission, he suggested she submit a portrait. Medicine Bull had never done portraits before, but rose to the occasion.
"I was kind of thrown into it," she laughed. "But it gave me a start to taking portraits… I really like taking pictures of people. That's why my teacher pushed me and encouraged me to join."
Spear said it took her a few attempts to come back with a picture she was ready to submit. The day of the submission, she had five images of her younger sister, one of an elder, and one of a person with whom she'd crossed paths. Ultimately, she chose her younger sister as her subject, wearing a traditional dancing dress that had once been Medicine Bull's for ceremonies.
"It was the first time I'd tried the dress on my little sister," Medicine Bull said. "I took a few different pictures, but ultimately submitted the most of her."
"I'm always telling students to edit and pick the ones your gut tells you. Interestingly, the one that was picked was one I might not have picked as the first one," Spear commented. "I think her sense of what she likes and doesn't like is strong… Katie said, 'I really want to do this one,' and it turns out that that was the one she won with."
According to Spear, Getty will take the photograph and have a graphic artist render the image into a poster. Medicine Bull will receive a copy, but she hopes to go see the display in person.
Since the win, Medicine Bull hopes to join more photography competitions. "It still feels unreal," she commented.
"The whole school is excited for her... It's a pretty thrilling thing," Spear stated. "With a national picture in her resume, if you will, that'll be a nice calling card for her for sure."
Medicine Bull's winning photograph can be viewed online at: community.amplifier.org/art/lilyblossom-5-portrait/.