Ronan Police Department swears in new officer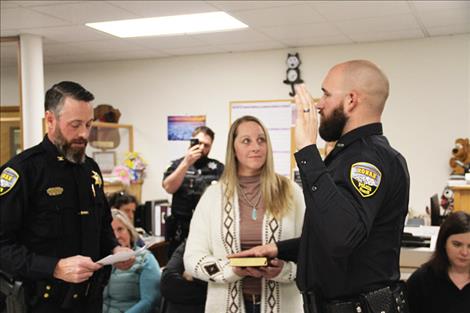 RONAN — A new police, officer chosen by Chief Robert Jacobson, was sworn into the City of Ronan Police Department on Feb. 8. After an extensive search for a new officer with the right abilities and characteristics, Jacobson said Kellen Botten's application stood out more than anyone else's.
Botten approached Jacobson approximately a year ago to inquire about being a reserve officer, and Jacobson asked he stay patient while they worked to get things shored up in the department and get some reserves going. Botten did just that, Jacobson said, as he kept coming back and even doing ride-a-longs with existing officers. Given his dedication, Jacobson said he thought it was only fair to give Botten a fair look, and he was impressed by what he found.
Botten comes to the City of Ronan after serving and gaining experience with other public safety agencies over the past six years, including as a wildland firefighter for two years in Washington state and several years with the Snohomish County volunteer search and rescue team. Additionally, Botten served on the recovery team and was put in charge of crew safety during the 2014 Oso landslide in Washington, one of the worst in US history that claimed 43 lives. He is also a certified EMT.
"His professional background work and some of the volunteer aspects that he was with show that he has a great strength of moral character, which is important in policing more than ever in this day and age," Jacobson stated. "We have to have people in this profession that are of good moral character that not only do the right thing when people are looking, but more importantly do the right thing when people aren't looking."
Jacobson commented that everything on Botten's application showed a strong dedication to prove himself professionally and personally, and said Botten had told him when asked what drew him to police work that he'd always had an interest in public safety and have some sort of role in it.
With his hand on a bible held by his wife, Botten took the oath of office to support, protect, and defend the constitution of the United States and the constitution of the State of Montana against all enemies foreign and domestic, and faithfully discharge the duties about which he's entering and uphold the law enforcement code of ethics with fidelity.
Botten's field training began on Friday, and he will be able to operate on his own once it's completed.
"We're very fortunate to have someone of Kellen's quality," Jacobson said. "I think he's going to make a great officer."
In other news:
The committee of councilmembers tasked with determining the need for and viability of a business license in Ronan will present in the next meeting if existing zoning requirements may already achieve the goals discussed for the potential license.
Running up against issues of how the license would be enforced, what the fee would go towards, and if the license might act as a roadblock for new businesses coming to town, the committee is unsure at this time if a business license program would be viable and have not taken a hard stance. The business license was proposed as a way to help the city stay aware of what businesses move in, but should the committee find that existing zoning ordinances already achieve this, the idea may be dropped. The group will research and reconvene with their findings in the next city meeting on Feb. 22.