Climate scientist: MT should expect climate-driven water, wildfire woes
Steve Running, a 2007 Nobel Peace Prize recipient, discussed the global causes and local implications of climate change at an event in Billings.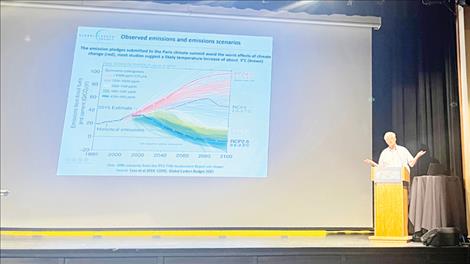 BILLINGS — Montanans should expect longer, more intense wildfire seasons and declining streamflows, the state's most decorated climate scientist said during the keynote address of Billings' inaugural Climate Week, an event that aims to raise awareness about climate change and explore responses.
Former University of Montana professor Steve Running provided high-level explanations of climate change's causes and impacts at a presentation attended by more than 150 people Tuesday evening. He also discussed alternatives to fossil fuel-intensive energy sources such as coal, oil and natural gas for the audience assembled at Montana State University-Billings' Petro Hall.
Running is a former NASA scientist and served on the United Nations' Intergovernmental Panel on Climate Change, which was awarded the 2007 Nobel Peace Prize for its work assessing the science of climate change. A resident of Missoula who's been giving presentations on climate change since 2000, Running is also a professor emeritus of ecosystem and conservation sciences at the University of Montana.
Increasing concentrations of greenhouse gasses are driving a global dynamic whereby "wet areas are getting wetter and dry areas are getting drier," Running said. Since Montana is an arid region with low humidity, "that hot air just doesn't have any more water to take up from the surface" in the warmest months of the year. Thus, one impact of climate change in Montana is that summer precipitation is declining at the same time a general 2- to 3-degree increase in air temperature is leading snowpack to melt faster, he said.
As a result, less water is flowing into the state's rivers and streams, which impacts all manner of water users, from agricultural irrigators to rafting and fly-fishing guides to utility companies reliant on hydroelectric power.
Running also said warmer temperatures paired with the state's semi-arid landscape mean that more of Montana is becoming vulnerable to wildfire for a longer stretch of the year.
"The snowpack melts earlier and the system dries out up to a higher elevation, so you have a larger portion of the landscape that's vulnerable to an ignition event for a longer period of time," he said. "This, to me, is our Achilles' heel. This is like our sea-level rise. All you have to do is read the 1910 history of what could happen and realize it's even hotter and drier now than it was in 1910," he said referring to the notorious Great Fire of 1910, a wind-driven blaze that burned millions of acres of western Montana and Idaho in a matter of days.
Running didn't dwell on those impacts before transitioning to what he called "the good news": that cost trends for solar- and wind-derived power have been "spectacular." Both energy sources now out-compete coal-fired power, even if the calculation is based on burning coal in existing plants rather than building new ones, he claimed.
Coal combustion, the largest source of greenhouse gas emissions on the planet, is now "fundamentally uneconomic," Running said.
"To me, the most important thing for us to do is to quit burning coal and quit selling it for anybody else to burn," Running said. "This is absolutely priority No. 1, worldwide — to end coal burning, particularly for electric power. … This is something where we have choices."
Running also mentioned the Held v. Montana trial scheduled to start June 12 in Helena, in which 16 youth plaintiffs will argue that Montana's approach to energy permitting has deprived them of their constitutional right to a "clean and healthful environment." It's a first-of-its kind trial where plaintiffs will attempt to hold a government accountable for its role in facilitating climate change via energy-permitting practices.
"It turns out that Montana is the very first [lawsuit] that will get to the courtroom next week," Running said, to applause from the audience. Running, an expert witness for the plaintiffs, is expected to describe the mechanisms driving climate change and its impacts in Montana before Lewis and Clark County District Court Judge Kathy Seeley.
Running closed his presentation Tuesday with a graphic demonstrating temperature levels under a suite of different emission scenarios.
"This looks like quite a mess," he said, "because the models don't know what humanity's going to decide to do."
"This is not algorithm error — it is what in the hell is humanity going to decide to do?" he continued. "That's where we sit, right to this day, with that decision."
Running's agenda for the week also included other events in the Billings area. More than 30 local and statewide organizations coordinated to produce Billings Climate Week. They include Sustainable Billings, Families for a Livable Climate, Forward Montana, the League of Women Voters, Big Sky 55+ and a number of faith-based organizations.