George Simpson sworn in as new Polson police chief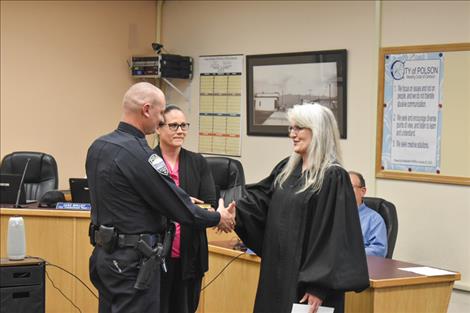 POLSON — Long-time Polson police officer George Simpson was sworn in as the new police chief at the Sept. 6 Polson City Commission meeting.
District Court Judge Deborah Kim Christopher welcomed the new chief by saying, "He is grounded in the value system and tradition of hard work."
Simpson took the role as acting police chief in April of 2023 after his predecessor retired. The council sifted through 20 other applicants in that time from a national search before selecting Simpson for the job.
Simpson's experience includes a degree from the FBI Executive Command College, nine years of service with the Navy and law enforcement work in two sheriff's departments as well as history with the Polson Police Department. Simpson has been with the Polson Police Department for eight years and has served as captain and sergeant.
Polson Mayor Eric Huffine switched gears after the police chief signed the oath and said two grant requests would be considered that had been presented by Susan Hartman and Carol Lynn Lapotka. The grants revolved around the modification of the old city sewer lines going from their businesses on Main Street. They said the current lines were spliced together and back up all the time. They proposed that the lines be torn out and replaced with two separate lines. The proposal was approved.
The General Mill, Permissive Medical Mill and the Municipal Services levies on the agenda were also all approved. "This basically just authorizes us to be able to collect property taxes per state code," commented city commissioner Jake Holley.