St. Ignatius wraps up first water project, looks to second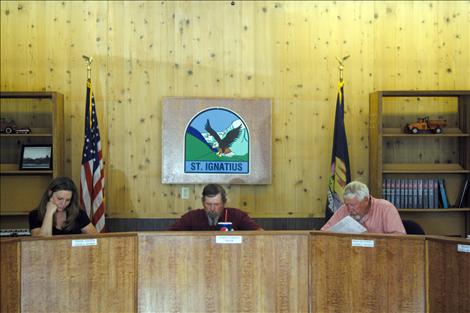 ST. IGNATIUS — City Council members had much to discuss during the June 4 meeting in St. Ignatius.
Due to budget concerns, the council may soon be forced to eliminate the animal control officer position.
"I don't see any way we can keep the animal control officer," Mayor Charles Gariepy said, adding that the position is three to four times over what the council budgeted.
Council members also said the CSKT is not getting involved in animal control issues as they had hoped, and with next to no revenue generated by the city's animal control officer position, the city may simply not be able to afford it in the near future.
Council members are putting the issue on the agenda for consideration next month.
In addition, the pump houses build over the town's new chlorine water treatment location will soon have rain gutters and sidewalks, as Public Works Director Scott Morton said there was sufficient money left after construction to cover the costs.
And, as one water project winds down, construction of a new well is about to start up.
Morton said the new city well project's final plans are going to the Department of Environmental Quality June 7 and will hopefully be approved by June 14. The city will begin advertising for construction bids June 19, opening for bids one month later on July 19.