Who's positioned to gain from adult-use marijuana legalization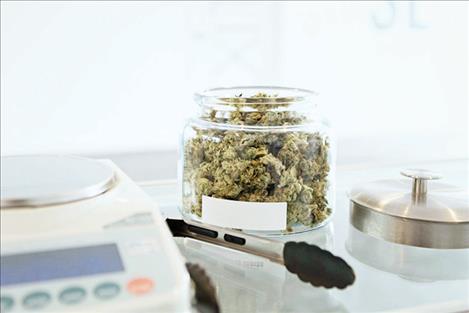 Photo by Add Weed on Unsplash
MONTANA — For the past year, concertgoers headed to downtown Missoula's Wilma Theatre have passed Rocky Mountain Relief, a medical marijuana dispensary next door to the venue and across the street from a new hotel.
If Montanans pass one of several ballot initiatives this November to legalize adult-use marijuana, such a location might have made the dispensary a gold mine, one of the many potential beneficiaries of legalization, from testing labs to the state budget. The only problem is that Rocky Mountain Relief recently closed, so quietly that neighboring businesses didn't even notice when. On Feb. 20, the storefront reopened under the ownership of The Higher Standard, one of the largest providers in the state, which also has medical marijuana dispensaries in Helena, Butte and Dillon.
According to an analysis by multistate marijuana provider Verilife, Missoula has the largest number of dispensaries in the country per 50,000 residents, and Rocky Mountain Relief isn't the first of the roughly dozen dispensaries that opened in downtown Missoula in the past few years to close. One block up, Green Tree dispensary recently moved out of its storefront, though it didn't take long for a new dispensary, Double Dogs, to move in.
Directly next door is Flower, the first dispensary to open in downtown Missoula. Owner Bobby Long moved into the space in 2016, not long before voters passed a ballot initiative reviving Montana's medical marijuana program after a quasi-repeal passed by the Legislature in 2011.
Fortuitous timing has allowed Long to survive in Montana's notoriously boom-and-bust medical marijuana market where others have not. When other providers were shutting their doors after the quasi-repeal, cutting off medical marijuana access to 93 percent of patients, Long expanded, anticipating that the 2016 initiative would soon not just revive demand, but increase it.
Montana's medical marijuana market is relatively small — just 36,422 patients — but Long said in 2018, as the market was growing, that he became the largest provider in Missoula county by expanding at the right time.
"I think these [other dispensaries] come downtown primarily for ego," Long said recently. "Their heads are wired for liberal coastal rec [recreational marijuana], not conservative, landlocked medical. If they are betting on rec, then they have a long way to go."
Another boom could arrive in April 2021, the date Montana marijuana dispensaries would be allowed to begin selling to anyone age 21 and over under the terms of a ballot initiative proposed by the group New Approach Montana.
New Approach's proposal would also require the Montana Department of Public Health and Human Services to draft "any necessary rules and regulations" to allow medical marijuana providers to sell to non-patients, including a licensing fee system. Previous attempts by the health department to establish a licensing fee system for medical marijuana providers led to smaller providers going out of business when faced with the same hefty fees as larger, deeper-pocketed dispensaries.
Another upcoming market shake-up is the decoupling of patients from providers, a consequence of Senate Bill 265, which will take effect no earlier than July 1, 2020. Instead of being restricted to buying medical marijuana exclusively from a single provider, patients will soon be allowed to buy from any provider.
New Approach's proposed initiative would give a leg up to established dispensaries over out-of-state speculators by preventing the health department from licensing adult-use providers if they or their investors "before July 1, 2021, [have] resided in Montana for fewer than three years except if the provider or marijuana-infused products provider was named by a registered cardholder by June 30, 2017." The residency requirement switches to one year after July 1, 2021.
Other lucrative sectors of the marijuana business are baked into Montana's current regulatory scheme, such as private testing labs. State law mandates that providers submit their products for safety compliance, which can cost from $300 to $700 per five pounds. Confusion over rules regarding testing labs and independent THC extraction labs that are external to a provider's business led to multiple lawsuits against the health department from large providers like Lionheart Caregiving over the past few years.
After a flurry of debate in the 2019 Legislature, lawmakers passed SB 265 to further clarify the state's medical marijuana regulations. While much of Montana's medical marijuana industry supported the bill, Lionheart opposed it, with its attorney, former Montana federal drug prosecutor Josh Van de Wetering, saying at an April legislative hearing that new restrictions limiting how many providers independent extraction labs are allowed to work with would hurt Lionheart's business.
Lobbying records also show that Lionheart paid $20,000 to political consultant C.B. Pearson and his firm, M+R Strategic Services, to oppose SB 265 for the same reason. The lobbying report was certified by another Lionheart attorney, former Democratic state Rep. Ellie Hill Smith (now running to represent a Missoula district in the Montana Senate). In November 2018, investors in an independent extraction lab registered to Hill encouraged Lionheart to sue the health department after the state rejected the provider's permit to work with the lab, according to an affidavit filed by Hill's husband, who was an investor in both the extraction lab and a separate marijuana testing lab, the latter of which he has since divested from.
Pearson said last August that his firm, which successfully organized Montana's 2016 medical marijuana initiative, is working with undisclosed clients on an additional adult-use marijuana ballot initiative. Reached Feb. 12, Pearson said M+R now hopes to work with New Approach, but that they are "still in discussions."
A third faction trying to legalize adult-use marijuana on the 2020 ballot is grassroots group MontanaCan, whose proposed legislation differs from New Approach's in many details. One of the major distinctions is each group's proposed sales tax, with MontanaCan proposing 5 percent, and New Approach 20 percent. MontanaCan's proposal stipulates tax revenue going to "various state programs and local government entities," while New Approach's specifies taxes going to "conservation, substance abuse treatment, veterans services, health care, local governments and general revenue for the state."
An initial analysis by New Approach last year calculated that its tax scheme would generate $35 million in tax revenue annually by 2025, which frontman Pepper Petersen said in an email to MTFP was arrived at by comparing adult-use marijuana sales figures from other states and adjusting for population.
Hunter Pauli is a Seattle-born, Missoula-based freelance investigative reporter and graduate of the University of Montana School of Journalism.