Locals team up to give back to Mason Moore Foundation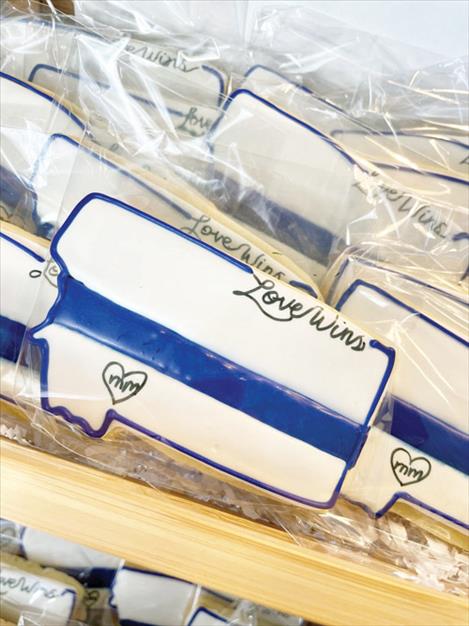 LAKE COUNTY — The St. Ignatius Police Department and Polson's Scottage Cakery have teamed up for the month of February to raise money for the Mason Moore Foundation.
Created in honor of Broadwater County's Deputy Mason Moore who lost his life in the line of duty in 2017, the foundation lent its assistance to the St. Ignatius Police last summer when Chief Jason Acheson reached out about a need for equipment. Although the foundation hadn't been accepting grants at the time, when Acheson reached out to explain the department's need for body armor, as what the department had had expired, the foundation gave the department $2,000 - twice the amount they'd asked for. Acheson credits them for incredible support for police departments in Montana, many of which struggle to buy necessities with the small budgets available in rural towns.
The motto of the Mason Moore Foundation is "Love Wins," based off a personal expression between Moore and his wife, Jodi, and something the Achesons and Michelle and Jeremy Lee of the Cakery thought went well with the overall theme of February.
The Lees, who own Scottage Cakery, are both former law enforcement, with Jeremy retired from the highway patrol last year, and Michelle semi-retired and still involved with the sheriff's office. Michelle said that was how they knew Acheson, and when he decided he wanted to do something nice for the Moore Foundation he gave them a call.
"(Acheson) asked me what I thought and if I'd be interested … and what would I think about creating sugar cookies just for that," Michelle explained. The Cakery hopped on board and designed a cookie with an inverse color scheme of the foundation's "Love Wins" logo on a Montana shape.
Coincidentally, a recent two-hour episode of Dateline NBC aired on Feb. 3 addressed Moore's death, something Acheson said caught him by surprise, but couldn't have been more perfect timing. "Jodie never mentioned anything about that to us, so when that aired last weekend and we kicked this event off last weekend, that was all by coincidence," Acheson commented. "I just thought that all pieced together really good."
The Scottage Cakery will be selling its custom cookies in honor of Moore through the end of February with all proceeds going toward the foundation.
"Even if people don't want to buy the cookies, there's other ways they can support the Mason Moore Foundation just by going to the website," Michelle said. "It's so important."
"I just want the awareness to get out there about the foundation," Acheson said. "There's so many good charities out there … there's a lot of stuff for first responders alone, but if people are thinking of one that they'd really want to contribute to this is something that's here in Montana, that's Montana-based and born. That's what I hope people think about, and help keep Deputy Moore's legacy alive, and help this foundation out there because this foundation has given back in so many ways that we don't even know."
To order the fundraiser cookies call the Scottage Cakery at 406-471-1628 or visit during store hours, 10 a.m. to 5 p.m. Tuesday through Friday with a 3 p.m. closing time on Saturday. There is currently a three to five day turnaround due to high demand. Shipping options are also available.
To learn more about the Mason Moore Foundation, visit: masonmoorefoundation.com