Articles with the Tag: Charlo schools
Future voters get started early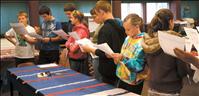 CHARLO — Sixth through 12th-grade students lined the interior of Charlo's school library Friday, eagerly anticipating a mock voting session and cookies and juice boxes awarded to those who'd voted. The election was organized by teachers and parents in an effort to create an authent...
Charlo hires new athletic director, superintendent
Charlo schools have added a new athletic director and superintendent for the entire 2012-13 school year with a single hire: Thom Peck. In an effort to make him feel more at home, we've asked him a short list of questions and published them below so you might get to know him better. Charlo Scho...