Chiefs and Maidens compete at Whitefish Invitational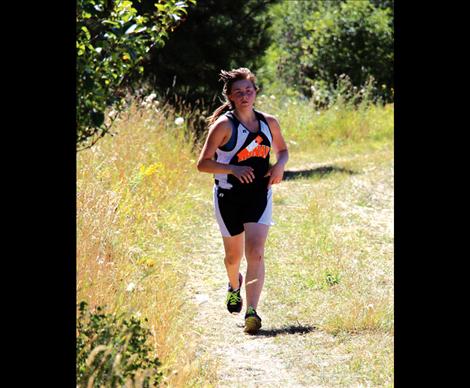 WHITEFISH – Ronan's cross-country team traveled to Whitefish Saturday with Maidens placing athletes in the top 20 and one boy breaking top 10.
As a team, the Chiefs placed fifth with an overall team score of 112 and according to Coach Noelle Decker, eight runners logged personal records. Jackson Duffey placed the highest at Whitefish, coming in seventh with a finish time of 17:02, shaving 20 seconds off from his last meet.
With the upcoming Conference title meet, Decker said the boys' goal is to place in the top two and she's pleased with the hard work she's been seeing from her boys each week.
"They have been fun to coach because they have a great work ethic and most of them have improved their times each week," she said. "You can't ask for much more than that."
For the girls, freshman Penny Weyent and Tashyna Matt lead the Maidens with Weyent taking 13th overall with a finish time of 22:10 and Matt in at 15th with a time of 22:12. The Maidens placed fourth overall as a team with a score of 108.
Like the Chiefs, the girls would like to sneak in to a top two spot at the Conference meet and have been practicing hard to help reach that goal. Though the team is young, Decker said the girls are working together to lead as a team.
"The girls haven't had someone take on the leadership role for their team; it's more of a joint effort, which has also been great to see," she said. "They really get along well and have come to understand that working together as a team at practice will only make them individually better at meets."
The Chiefs and Maidens will host the conference title race Oct. 17 at the Mission Mountain Golf Course. The top seven placers from each team will continue on to State competition in Helena Oct. 25.
Results
Boys
Team scores - Frenchtown 45; Whitefish 53; Thompson Falls 71; Eureka 94; Ronan 112, Columbia Falls 140; Libby 217.
Girls
Team scores -Whitefish 24; Columbia Falls 57; Eureka 79; Ronan 108; Frenchtown 133; Libby 134.