Maidens earn 6B District gold, Polson set for postseason hoops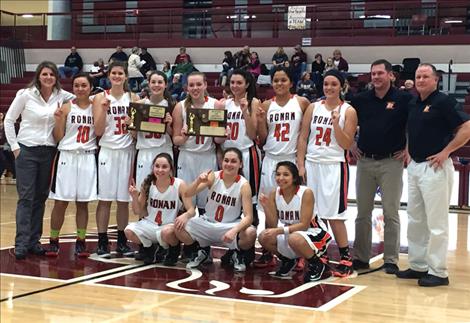 HAMILTON – The Maidens have plenty to be smiling about after tearing through the district tourney to claim top honors as the 6B title winners.
After grabbing the number one seed in the regular season, the Maidens went into the District Tournament with the much-needed confidence that helped them take it all the way to the crown.
Game one on Friday pitted the Maidens against the Florence Lady Falcons.
After the first two frames the Maidens went into the locker room with just a meager four point advantage. In the third, they turned that four point lead into a nine spot and never looked back, toppling Florence 54-43.
Maidens Aspen Jore and Alicia Camel scored more than half of Ronan's numbers, tallying 23 points between the two of them; Jore netted 12 and Camel added 11.
With the Championship on the line, the Maidens met third-seeded Loyola-Sacred Heart.
While going toe-to-toe in the first half of play, a big second half put the Maidens on top with a 51-46 win. Bragging rights were earned as the Maidens finished out their District play with the crown.
Maiden Lee Camel led her team at the net, scoring 18 for Ronan, while Jore chipped in another 10.
Ronan also posted both Camels in the top spots for overall 6B scoring. Lee totaled 228 points over 18 games averaging 12.7 a court contest; Alicia, only playing in eight games, posted 92 points, her an overall average of 11.5 per game.
The Maidens will head to the Divisional Tournament in Kalispell starting Thursday.
Results
Ronan 10 12 19 13 – 54
Florence 10 8 10 15 – 43
Aspen Jore 12, Alicia Camel 11, Jordyn Clairmont 9, Haley O'Hern 8, Lee Camel 8, Kendra Starkel 3, Micalann McCrea 3.
Ronan 9 9 15 18 – 51
Loyola-Sacred Heart 6 13 12 15 – 46
Lee Camel 18, Aspen Jore 12, Micalann McCrea 9, Alicia Camel 7, Haley O'Hern 4, Jordyn Clairmont 1.
Ronan Chiefs
RONAN – The Chiefs finished their postseason run with a bit of heartache, but not before taking down a rivaled neighbor in their wake, finishing their season at 8-13 overall.
Thursday the Chiefs hosted the Mission Bulldogs with both teams battling in a do-or-die play-in game.
After trailing the Bulldogs by three going into half time, the Chiefs pushed it into overdrive, coming into the third frame outscoring the Bulldogs by 11, helping Ronan pick up the 47-35 win.
Cedric Earthboy led all scorers logging 21 points. Earthboy finished out his regular season scoring 298 points while averaging 15.7 a game, placing him second in District 6B.
At Hamilton on Friday, the Chiefs opened up District play with a loss against Loyola-Sacred Heart, the team that ultimately continued on to take the 6B District tournament win.
A steady pace on the Rams' part kept the Chiefs nipping at their heels sending the Chiefs to the wrong side of the bracket after the 41-54 loss.
McCrea and Earthboy led their team at the basket with McCrea netting 10 and Earthboy adding nine.
In what would be their last game of the season, the Chiefs fell to Deer Lodge 45-52 while vying for the bronze.
Though Ronan kept on a healthy trot through most of the game they couldn't keep up with the sprinting Wardens, forcing a game of catch up from the first frame for the Chiefs.
Earthboy scored a team high 17 for the Chiefs while teammate Justin Krahn finished his final game with the Chiefs in the double digits with 10.
Results
Ronan 6 5 11 25 – 47
Mission 8 6 7 14 – 35
Cedric Earthboy 21, Colton McCrea 8, Bryce Cullen 7, Justin Krahn 3, Jeremiah North Piegan 3, Ty James 2, Aaron Misa 2, Jackson Duffey 1.
Ronan 9 10 3 19 – 41
Loyola Sacred Heart 12 12 15 15 – 54
Colton McCrea 10, Cedric Earthboy 9, Kasey Mock 6, Aaron Misa 5, Jeremiah North Piegan 4, Rhett Duffey 4, Ty James 2, Zeke Misa 1.
Ronan 14 11 7 13 – 45
Deer Lodge 18 5 11 18 – 52
Cedric Earthboy 17, Justin Krahn 10, Colton McCrea 9, Aaron Misa 3, Jeremiah North Piegan 3, Rhett Duffey 3.
Mission Bulldogs
RONAN – The Bulldogs tooted their last horn Feb. 17 at Ronan in a play-in battle with the Chiefs, but went home after the 35-47 loss.
Though the Bulldogs kept it at a neck-and-neck pace against the Chiefs, a Ronan rally in the fourth decided Mission's fate, ending their season with an overall record of 6-13.
Bulldog Aaron Fisher-Ahenakew ended on a high note, leading his team with 13 points on the board. Nick Durglo added 10.
Fisher-Ahenakew also took top honors as the 6B point leader. He scored a total of 371 points over 19 games throughout the regular season, averaging 19.5 a game.
Results
Mission 8 6 7 14 – 35
Ronan 6 5 11 25 – 47
Aaron Fisher-Ahenakew 13, Nick Durglo 10, Bill VonHoltum 6, Raymond Matt 4, Will Powell 2.
Mission Lady Bulldogs
FLORENCE – The Lady Bulldogs toughed out a winless season, adding another loss in postseason play with a fallout in the Jan. 17 play-in game against Florence.
After keeping themselves in the game throughout the first half of play, the Lady Bulldogs had trouble staying afloat in the second half of the contest, sending them home with the 34-56 loss against the Lady Falcons.
Lady Bulldog Irene Lopez came away with high points for her team netting 15.
Despite the Lady Bulldogs' 0-19 struggle, Lopez came away with a third in District finisher for points achieved. Lopez swooshed 211 points over 19 games, averaging double digits at 11.1 a game.
Results
Mission12 10 8 4 – 34
Florence 18 18 12 8 – 56
Irene Lopez 15, Emilie Charlo 5, Jordyn Eichert 4, Leila Marsh 4, Trinity Lewandowski 3, Bryar McCrea 2, Shania Dubois 1.
Polson Pirates
POLSON – The Pirates finished up regular season play with a pair of wins that launched them into a tie with Whitefish for a second-place conference spot.
On Thursday at home the Pirates broke the Broncs, blowing past Frenchtown 49-44. The Pirates grabbed the lead out of the box and kept on pace to secure the W.
Pirate Andrew Curley led Polson at the basket tossing in 11 while Wyatt Ducharme and Matthew Rensvold each added 10 apiece.
On Senior Night at home Saturday, the Pirates locked the Bulldogs in their kennel, rolling over their Whitefish conference foes, 52-41. The win brought the Pirates to a 8-10 overall record for the season.
Rensvold led all scorers with 17 in the Northwestern A final bout and Payton Lefthand chipped in 14.
Rensvold, along with Curley and Tanner Wilson, all had top-10 overall scoring for their conference. Rensvold finished with 197 points over 16 games with an average of 12.3 points netted per game, placing him third in conference.
Curley closed up in fifth with an average of 12.1 per contest, totaling 193 over 16 games and Tanner just made the top 10 in the 10 spot by tossing in 167 points over 16 games for an average of 10.4 per game.
The Pirates will head to Whitefish for Divisional play starting Thursday.
Results
Polson 13 10 14 12 – 49
Frenchtown 8 10 11 15 – 44
Andrew Curley 11, Matthew Rensvold 10, Wyatt Ducharme 10, Tanner Wilson 9, Payton Lefthand 5, Chris McDonald 4.
Polson 9 13 16 14 – 52
Whitefish 9 11 6 15 – 41
Matthew Rensvold 17, Payton Lefthand 14, Wyatt Ducharme 6, Derek Peel 6, Tanner Wilson 5, Andrew Curley 3, Chris McDonald 1.
Polson Lady Pirates
FRENCHTOWN – The Lady Pirates ended regular season play with a split, but on a positive note after toppling Whitefish in front of fans that came to celebrate upperclassmen on Senior Night.
Earlier in the week, the Lady Pirates fell to the Lady Broncs 24-46 Tuesday at Frenchtown. Lady Pirates Lauren Lefthand and Nichole Lake combined to score 21 of Polson's 24 points with Lefthand logging 11 and Lake chipping in 10.
At home Saturday, the Lady Pirates rolled over Whitefish with a 38-44 win over the Lady Bulldogs, securing Polson a fourth place in conference.
Though the Lady Pirates fell behind after the first frame on the court, a steady middle game put the Lady Pirates ahead of the curve with a paced fourth quarter securing a big win in the last game played on the Lady Pirates' home hardwood.
Marlee Congdon high scored both teams, netting 13 for Polson, while Lefthand was close behind adding 12.
Northwestern A divisional play will begin Thursday in Whitefish for the Lady Pirates.
Results
Polson 4 8 9 3 – 24
Frenchtown 12 11 12 11 – 46
Lauren Lefthand 11, Nichole Lake 10, Erin Sampson 2, MaKenna Weltz 1.
Polson 6 15 13 10 – 44
Whitefish 10 5 7 16 – 38
Marlee Congdon 13, Lauren Lefthand 12, Nichole Lake 7, Dylan Quinn 4, MaKenna Weltz 4, Peyton Anderson 2, Erin Sampson 2.