All Stars head to Idaho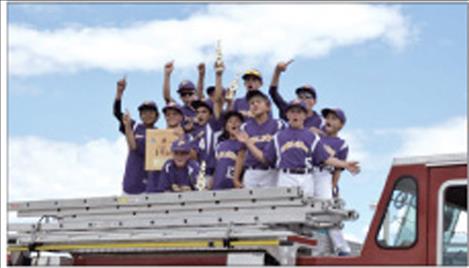 POLSON – The Polson 12U All Star team defended the State Championship baseball title at home this past weekend at the Polson Softball Fields.
After wins in tournament play: against Kalispell (13-7 win), Florence (7-0 win), Clark Fork Valley (19-2 win), Mission Mountain (7-2 win), the championship game was won by Polson 12U All Stars with their hard-fought defense against Bitterroot (6-2 win).
After the trophy presentation, the team and coaches were given a victory ride by the Finley Point Rural Fire Department through Polson. Many people attending the Cherry Festival congratulated the team as they drove through town.
The 12U All Stars now head to the Regional Tournament in Meridian, Idaho.
The boys want to thank their coaches and families for their dedication and tireless support, the support of the community who turned out for the games, and especially their local donors including: Polson Youth Baseball Association, Mission Valley Mariners, Polson Softball Association, Ronan Sports and Western, Lake Seed, Hoversland Veterinary Services, Wold Law Firm, Ron Fricker and Whealon Construction, Glacier Lake Sand and Gravel, Jennifer Fisher's Lemonade Stand, and the artistry of Diana Hughes.