Football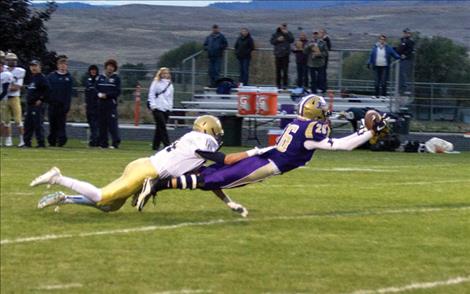 Polson
The Polson Pirates had a tough weekend, falling to the Dillon Beavers, 43-7 at home last Friday evening.
Tanner Wilson was leading rusher with 104 yards while teammate Matthew Rensvold ran for 85 yards and scored the only touchdown.
Rensvold also led the Pirates defensively with 6 tackles. Teammates Cameron Brown, and Kyle Druyvestein each contributed 5.
The Pirates will host Frenchtown during their homecoming this Friday.
Dillon 43, Polson 7
Dillon 24 7 6 6 – 43
Polson 0 0 0 7 – 7
D - RJ Fitzgerald 3 run (kick failed)
D - Troy Anderson 5 run (Troy Walker run)
D - Gabe Hupp 14 pass from Anderson (Payton LaFrentz kick)
D - FG LaFrentz 28
D - Isaak Koslosky 4 run (LaFrentz kick)
D - Walker 3 run (kick blocked)
D - Koby King 45 run (kick failed)
P - Matthew Rensvold 3 run (Jacob Harrod kick)
Arlee, Charlo
Arlee Warriors defeated the Charlo Vikings last Friday in Charlo's homecoming football game, 46-20. The Warriors started strong with two touchdowns in the first. Patrick Big Sam's pass to Tyler Tanner completed for 9 yards. The two-point conversion pass was no good. Isaac Desjarlais then scored a touchdown for Arlee on 5-yard run. Teammate Patrick Big Sam passed to George Shick for another 2. Charlo's Jared Doty scored the Viking's first touchdown in the second quarter with teammate Jade Smith picking up the two point conversion. Smith then ran 27 yards for a touchdown and completed a conversion run for another 2. Arlee was quick to answer with a touchdown of their own and a 2-point PAT. After a third quarter safety, Arlee came back with a fury and dominated the last quarter, scoring three more touchdowns on two passes and one run and two PATs while Charlo scored one touchdown.
Arlee 46, Charlo 20
Arlee14 8 2 22 – 46
Charlo0 14 0 6 – 20
A – Tyler Tanner 9 pass from Patrick Big Sam (pass failed)
A – Isaac Desjarlais 5 run (George Shick pass from Big Sam)
C – Jared Doty 9 run (pass failed)
C – Jade Smith 27 run (Smith run)
A – Tanner 14 pass from Big Sam (Shick pass from Big Sam)
A – Smith safety (Bradley Brazill tackle)
A – Tanner 9 pass from Big Sam (run failed)
A – Desjarlais 46 pass from Big Sam (Harold Yocum pass from Big Sam)
A – Big Sam 4 run (Ryan Crawford run)
C – Toby Odom 39 run (run failed)