LFVCF donates painting to The Nest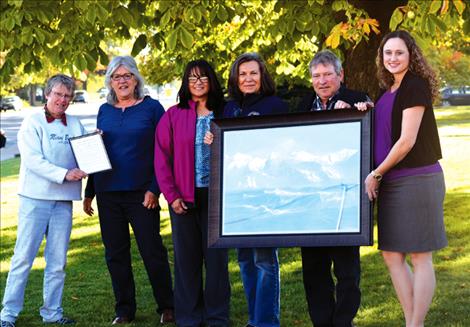 POLSON — The Lower Flathead Valley Community Foundation donated a painting by noted waterscape artist Byron Pickering to The Nest to be sold during the silent auction at "Fall Fest to Feather the Nest" fundraiser Sunday, Oct. 18 at McCrumb's Barn on Finley Point. Bids will also be accepted on The Nest's Facebook page.
Pickering was commissioned by LFVCF to paint Glacial Lake Missoula as it looked 15,000 years ago, and 100 prints of the piece were made, worth about $500 each.
The LFVCF is one of best-kept secrets around, according to board member Germaine White.
The group reviews proposals from all over the reservation. The group has given about a million dollars in the 10 years it's been operating.
The LFVCF's purpose is to bring tribal and non-tribal people together to work on projects preserving the outstanding cultural, natural and human resources of our community, according to their brochure. The group places special emphasis on the needs of children, as does The Nest.