Tribal council soon to hold primary elections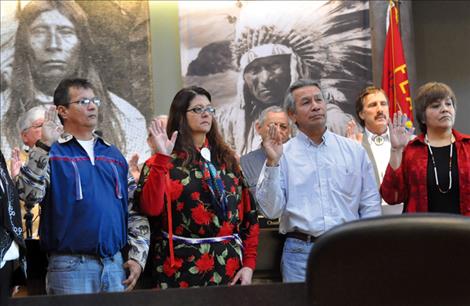 PABLO –Twenty-six candidates are vying for five of the 10 seats on the Confederated Salish and Kootenai Tribal Council this year during the primary election set for Oct. 17.
"The primary election will narrow down the candidates to two in each district unless the votes are really close," said Rob McDonald, CSKT communications director. If votes are close, those candidates are also added to the general election on Dec. 12.
Any tribal member enrolled in CSKT can announce a candidacy for tribal council after filling out a few papers and paying a $150 filing fee. The election board then approves those candidates and adds them to the ballot.
Tribal members over the age of 18 can vote for two candidates in each district during the election. Voting stations are available in each district. A voter can vote in a different district if they can't make it to their district on time, although the ballot will be flagged as out of district to ensure an accurate count.
Pablo has the most candidates this year including: Lloyd D. Irvine, Martin A. Charlo, Dennis L. Clairmont, Francine R. Dupuis, Agnes (Aggie) Incashola, Jesse Nenemay, Britton W. Salois and Nicholas L. White.
In Arlee, the candidates include James (Bing) Matt, Myrna Adams Dumontier, Troy Felsman, Shelley R. Hendrickson, Jim Malatare and David Sanchez.
St. Ignatius has five candidates: Ron Trahan, Wade Hendrickson, Tim J. Jeffries, Charles L. Morigeau and Jordan Stasso.
Terry Pitts of Dixon is the only current tribal council member not running again this year, and the candidates include Anita L. Matt, Michael L. Matt, Alfred H. McLeod Jr. and James L. Morigeau.
In Hot Springs: Leonard W. Gray, Gene Lozeau and Linda Lee Oliver-Landrum.
Polling sites are open from 8 a.m. to 8 p.m. and include: Arlee Head Start, Dixon Senior Citizen Center, Hot Springs Indian Senior Citizen Center, Pablo Tribal Complex, St. Ignatius Indian Senior Citizen Center, Ronan Indian Senior Citizen Center, Polson Indian Senior Citizen Center and Elmo Community Center.