Football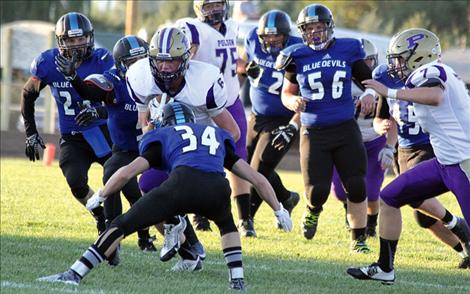 by Bob Gunderson for the Valley Journal
Arlee
ARLEE — The Warriors walked all over Noxon last Friday in a 58-0 win, increasing their State rank to No. 2 in Class C eight-man football and improving their record to 7-0. Arlee will host Darby Friday night for their final conference game.
Arlee 58, Noxon 0
Box scores unavailable
Charlo
DRUMMOND — The Vikings and Titans put on an epic offensive battle Friday in Drummond, scoring a combined 116 points as Charlo clinched the 62-54 win.
After the teams were tied at halftime, Charlo put up 28 unanswered points in the third quarter and scored again with less than 11 minutes to go in the fourth, giving the Vikings a comfortable 62-32 lead.
But in the next Flint Creek series, quarterback Cade Estes broke loose for a long run and Brady Fryberger ran him down from behind, forcing Estes out of bounds.
"While making the tackle, Brady sustained a serious injury, breaking both bones in his forearm," Coach Mike Krahn said.
The game was delayed quite some time while medical personnel attended to Fryberger.
"When play resumed we had a difficult time getting back into the game, mentally," Krahn said.
Flint Creek then scored 22 unanswered points. Behind by 8 with 40 seconds to play, the Titans took possession on their own 14-yard line, advancing the ball to the Charlo 35 as time expired.
"Brady's injury was tough for our team to play through, but in the end we were able to regroup and fend off Flint Creek's final charge," Krahn said. "To Flint Creek's credit they never gave up and kept fighting to the end."
The victory brought the Vikings to 7-1 overall and secured second place in conference behind unbeaten Arlee. First-round playoffs are Saturday, Oct. 31.
Charlo 62, Drummond 54
Charlo 121428 8 – 62
Drummond1412 0 28 – 54
Polson
COLUMBIA FALLS — Pirates' quarterback Tanner Wilson was firing on all cylinders Friday, passing for 172 yards and rushing 23 times for 135 yards and two touchdowns, yet the Pirates ended the night in Columbia Falls with a 26-35 loss.
Colton Cote scored on a 6-yard run to put Polson's first points on the board.
Wilson connected with Matthew Rensvold for a touchdown and four catches. Hudson Smith had five catches for 71 yards and Walter Wood added three catches for 32 yards. Rensvold also led the defense with 10 tackles. Safety Tanner Wilson added six tackles while outside linebacker Cameron Brown and defensive end Isaiah Williams earned five tackles apiece and a sack each.
Polson, 1-2 in conference and 3-4 overall, will host Havre this Friday. Game time is at 6 p.m. instead of 7 p.m.
Polson 26, Columbia Falls 35
Polson 0 14 6 6 - 26
C. Falls 6 0 7 22 - 35
Ronan
DEER LODGE — The scoreboard could hardly keep up Friday as Ronan and Deer Lodge battled through a wild passing contest that may have set a record high for the State with a combined 148 points and 1,472 total yards between both teams.
Despite their offensive prowess, the Chiefs lost the 64-84 contest with a whopping 547 passing yards and only 15 yards rushing as various players stepped up throughout the game.
"I very proud of the way our players kept battling, especially when key guys went down with injuries," Coach Jim Benn said.
Ronan put up the first points as quarterback Kasey Mock connected with Ezekial Misa on a 15-yard pass. Later in the first, the Chiefs scored twice as Mock hit both Aaron Misa and Ezekial Misa on touchdown passes and then nailed a 29-yard TD pass to Tyler Houle in the second.
Ezekial Misa scored on a 91-yard pass return before halftime and Kade Schutzman slipped through defense for a 72-yard kick return in the third.
Schutzman stepped into the leadership role behind center halfway through and connected for four touchdown passes in the second half — with one each to Brendon Blood and Chris Brooks — finishing the night 10 for 24 passing and 253 yards.
Ronan also blocked a point-after attempt by Deer Lodge in the fourth quarter.
The Chiefs will travel to St. Ignatius Friday to challenge the Mission Bulldogs.
Ronan 64, Deer Lodge 84
Ronan 18 14 14 18 - 64
Deer Lodge 28 21 14 21 - 84