Volleyball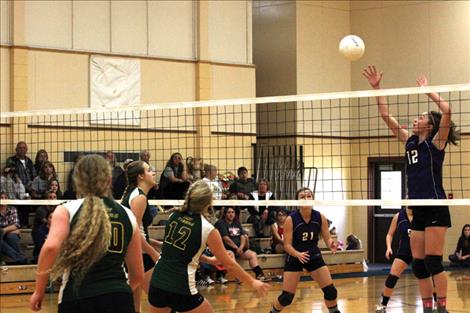 Ronan/Mission
ST. IGNATIUS — Despite it being the Lady Bulldogs homecoming game in front of a home crowd, the Maidens defeated their Class B rivals in four sets Thursday as Mission hosted Ronan.
Ronan's Shaina Snyder garnered 16 of the 11 team assists, Sadie Wirz logged 22 digs and Alicia Camel rose above the net to add 10 kills. Bri Harris and Camel each earned two aces and the team blocked five.
In Deer Lodge on Saturday the Maiden ladies were defeated in three sets but had outstanding play by Jordyn Clairmont, who logged 11 assists and eight digs. Alex Dennis and Sadie Wirz also contributed eight digs apiece. Camel led kills with six of the team's 16. Dennis, Clairmont and Camel each served an ace. Peterson and Lee Camel each blocked once.
The Maidens will travel to Florence Friday and Saturday for District tournament, play starting at 10 a.m. Friday.
Ronan defeats Mission 25-21, 14-25, 25-18, 25-13
Ronan — Kills 32 (A. Camel 10, Ashley Peterson 9, Silye Pete 6, lee Camel 4, Clairmont 2, Snyder 1) Digs 95 (Wirz 22, Clairmont 16, Harris 15, Snyder 9, Dennis 7, Peterson 6, Pete 3, L. Camel 3, Rhylee Burland 2, Tania Ulutoa 1.) Aces 8 (Harris 2, A. Camel 2, Clairmont 1, Snyder 1, Peterson 1, Wirz 1) Assists 27 (Snyder 16, Clairmont 11) Blocks 5 ( Snyder 2, Clairmont 1, Peterson 1, L. Camel 1)
Deer Lodge defeats Ronan 25-22, 25-17, 25-16
Ronan – Kills 16 (Alicia Camel 6, Silye Pete 3, Ashley Peterson 3, Lee Camel 2, Alex Dennis 1, Jordyn Clairmont 1) Digs 51 (Dennis 8, Clairmont 8, Wirz 8, Tania Ulutoa 7, Bri Harris 7, Peterson 5, Lee Camel 3) Aces 3 (Dennis 1, Clairmont 1, A. Camel 1) Assists 14 (Clairmont 11, L. Camel 3) Blocks 2 (Peterson 1, L. Camel 1)
Charlo/Arlee
CHARLO — In front of a home crowed for their final game of the regular season Oct. 20, the Lady Vikings defeated the Arlee Scarlets 25-23, 25-16, 25-9.
Freshman outside hitter Kaitlin Cox shined in the contest, logging 14 kills and four aces. Cheyenne Nagy, junior outside hitter had 12 kills and 21 digs. Both ladies' kills were helped by senior Mikaylan Roylance's 27 assists.
Charlo ended conference play undefeated as they enter postseason.
For Arlee, Eden Morin and Kaylee Samsel each tallied five of the Scarlets' 22 digs. Becca Whitesell lead with 15 of Arlee's 21 assists, Carly Hergett earned eight kills and Megan Reed and Bryndle Goyins served two aces apiece. The Scarlet team logged at total of 22 kills.
Charlo, Arlee and Two Eagle River School will all compete in the 10C district tournament that begins Friday in Superior.
Charlo defeats Arlee 25-23, 25-16, 25-9