Polson prepares for fourth film festival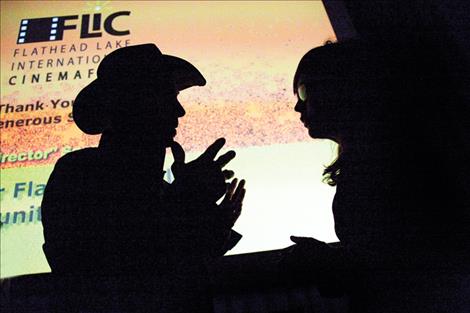 News from Flathead Lake International Cinemafest
POLSON — Hollywood has a long tradition of rolling out the red carpet for World Premiere movies. That rich tradition has once again made its way to Northwestern Montana as Polson prepares to celebrate its fourth annual Flathead Lake International Cinemafest, or FLIC for short. For those not familiar with the term, "World Premiere," it's defined as "the first public performance anywhere in the world" and FLIC will feature many firsts come Jan. 22-24 at the Showboat Cinema on Main Street in Polson.
Last year, FLIC was recognized as one of the top-15 winter film festivals in the U.S. by the Audience Awards.
"We are honored to be counted among the top film festivals in the nation," FLIC co-chair David W. King said. "We're excited to bring a diverse slate of independent films to this area for the fourth year in a row."
This year's line-up is sure to please film lovers with a variety of tastes. The festival will be screening full-length features, shorts, animated films, and documentaries. True to its name, FLIC is once again offering a broad selection of international films from countries that include Australia, Canada, Spain, Korea, Germany, Russian Federation, India, Turkey, United Kingdom, and Japan.
Several standout films have caught the eyes of FLIC judges this year, including "The Galloping Vet," an unexpectedly nutty Turkish comedy about a veterinarian who's on the lookout for a special elixir for animals. Unbeknownst to the vet, a mob boss and his eccentric estranged love are also after the elusive elixir.
The stylish and stark Korean film, "The Homemaker," explores the bleak world of a woman suffering from depression, and her attempt to flee her oppressive, insensitive husband.
In the riveting "Picking Up the Pieces," Jewish child Holocaust survivors recount their personal stories through interviews and archival photos. The film profiles their efforts to build normal and productive lives from tragic beginnings.
The documentary "The Things We Keep," offers a glimpse of one man's yearly sojourn into the Coconino Forest to collect firewood and re-connect with his roots. As he recounts his early inspirations and life as a sawmill worker, we discover a past based in a simpler time and an aesthetic appreciation of nature and for the world around us.
FLIC will officially kick-off at 5:30 p.m., Friday, Jan. 22, with an Opening Night Party at the KwaTaqNuk Resort. This year's theme is "Cinema Royale – 00FLIC." Attendees are encouraged to wear their favorite James Bond attire, which can include dressing as their favorite Bond villain. Tickets can be purchased at the door or online at the FLIC website.
The festival begins Saturday morning at 8:30 a.m. with a free family movie screening. (Film to be announced later.) This popular event has been a great hit the past two years and is sure to please all ages. Attendees are encouraged to dress in pajamas and enjoy a free breakfast sponsored and served by Polson Rotary. This event is free and seating is on a first-come, first-served basis. Advance tickets are not available.
As with previous years, many of our screenings will include question and answer sessions with filmmakers. Stay tuned for more details as FLIC's grand weekend in January draws nigh.
On Saturday evening there will be an "After Hours Meet the Filmmakers" event at the Lake Bar beginning at 10:30 p.m.
The festival closes on Sunday, Jan. 24, with a "Best Of" awards show to be held at Showboat Cinema. Approximately 20 awards will be distributed in various categories.
Additional festival information is available online at www.flicpolson.com and/or Facebook; or email info@flicpolson.com.