Board mulls seasonal resort tax to help fix roads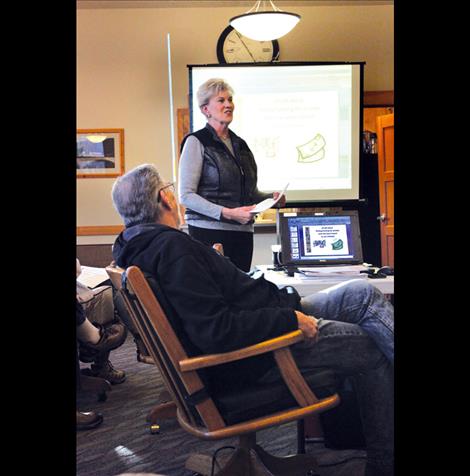 POLSON – In 2012, Polson received a grant funded by the Orton Family Foundation that was used to create the Polson Heart and Soul project. According to the Greater Polson Community Foundation, Polson Heart and Soul was a two-year program, which ended in 2014, for the purpose of reaching out to all members of the Polson community to engage in conversations about the future and pick out issues that need to be fixed in order to create a better future for Polson residents.
The Polson Economic Development Council, an advisory board to the City Commission, was created in May of 2015 to "develop and enhance the economic strength of the city of Polson."
"The Heart and Soul project identified problems in the community that needed to be changed. One of those problems, … for example, is that the roads need to be fixed," PEDC Vice Chairman Becky Dupuis said. "The Polson Economic Development Council is in charge of looking for solutions and funding to fix those problems."
Currently the PEDC is searching for funding to repair roads in Polson. The current city Street Department budget does not have enough funding for reconstruction, according to the PEDC.
"To rebuild one block of street costs about $300,000 including curb, sidewalk, storm drain, asphalt and engineering," PEDC Chairman Rick LaPiana said. "… and we all know costs are rising every year."
One of the solutions the PEDC found was to propose a 3 percent resort tax for the city of Polson. Resort taxes create a funding source for designated resort areas to finance a variety of services, according to Northern Rocky Mountain Resource, Conservation, and Development. At a Thursday, Feb. 18 meeting in Mission Bay, LaPiana and City Commissioner Jill Southerland suggested how the tax would benefit the city.
"The whole purpose of this tax is to not put all of this on the community members, but also on the tourists that use our streets and restaurants," Southerland said. "It is important we keep the beauty of this area... "
The tax period would run from April 1 to Sept. 30. Taxes would be assessed on:
—Hotels, motels and other lodging or camping facilities
—Restaurants, fast food stores, and other food service establishments
—Taverns, bars, night clubs, lounges, and other public establishments that serve beer, wine, liquor, or other alcoholic beverages by the drink
—Destination ski resorts or other recreational facilities
—Luxuries, which represent any gift item or other item normally sold to the public or to transient visitors or tourists. For example, tobacco, boat rentals, artwork, etc. Luxuries do not include food purchased unprepared or unserved, medicine, medical supplies, and services, appliances, hardware supplies and tools or necessities of life, according to the Montana Coda Annotated.
Polson falls under the requirements to be considered a resort community. One of these requirements is that the population must be less than 5,500 people, which it is, according to the most recent federal census. Once the tax is put in place, then it can stay no matter how large the population reaches.
The PEDC is exploring the possibility of becoming a resort tax city. A follow up meeting was held Monday, Feb. 22 at Polson City Hall.
"There is a lot of money coming into the community during those months," Southerland said. "The more input we get now, the better we can make the needed changes for our community."