Lifelong volunteer reflects on Ronan history, years of service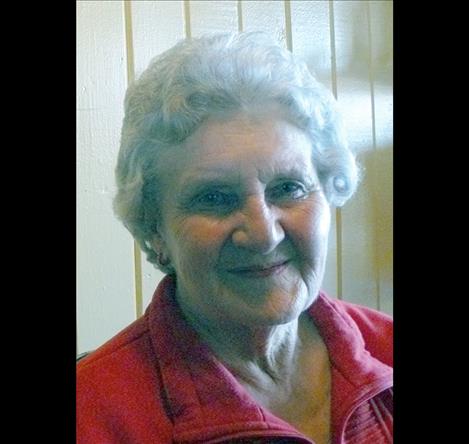 RONAN — Dressed in a vibrant red blouse beneath a Ronan Booster Club jacket, Alice Gleason appears much younger than her 80 years and has an energy that also belies her age.
With more Ronan service projects under her belt than anyone can remember, this Saturday Gleason will again head up the Ronan Woman's Club annual Flea Market and Craft Show. This is her final year chairing the fundraiser she began 30 years ago to raise funds for the club's philanthropic projects.
According to Gleason, the club used to host bingo games every Monday to fundraise. Over time the weekly fundraiser became too much for busy wives, mothers and employees so she developed the club's one and only fundraiser, the annual Flea Market and Craft Show; her favorite project because it provides funds for Girls' State delegates and student scholarships.
Over the past 47 years as a Woman's Club member, Alice has held every club office. According to Connie Romero, current club president, Alice "is a good example of where we hope our daughter(s) to be – where we hope to be."
Alice has been married for 60 years and has four children, two boys and two girls. In April her 15th grandchild will be born.
Gleason's many vocations often led her to children. She babysat preschool children, some as young as 3 weeks old, for more than 35 years. Her friends would comment on her home full of beanbag chairs, but that's where the children took their naps. One of her favorite babysitting activities and one she hears is fondly remembered, was making sugar cookies on holidays and letting the children decorate them and take them home to their families. Gleason believes she's cared for about 200 children, many of whom still come by to visit.
"Kids come back to Ronan and give me big hugs," she said.
Following 35 years as a babysitter, Gleason worked as Ronan Schools' head cook for 16 years, serving upwards of 1,500 students per day.
In addition, Gleason is a past Ronan PTA president and when her son was a young wrestler, she took on the job of calling parents to bring cookies for the volunteer who cleaned and setup the wrestling mats. The wrestling coaches made her a wooden telephone because they said she wore hers out.
As Jaycees, she and her husband were involved in many projects to raise funds to build the Ronan Community Center. The center was finished following their departure from the Jaycees because being over the age of 40 "ages you out" of the 18-40 year- olds group. According to Alice, she and her husband had become "an exhausted rooster and a pooped pullet."
Having lived and volunteered in the Ronan Community as long as she has, Gleason knows some interesting history behind many of the town's historical projects. For example, she explained the Ronan Library, which the Ronan Woman's Club raised funds to move from its basement location to the building where it is now, initially housed a bank.
Long before she became a member of the Woman's Club the club was instrumental in bringing a hospital to Ronan. The tiny hospital initially resided in a small white building that is still standing. Gleason proudly stated that the current Woman's Club also financially assisted with St. Luke's newest addition. As director of the Garden of the Rockies Museum, Alice can remember moving the Museum's current building, which used to be the Catholic Church, to its current location.
While the Woman's Club has played an important part in her life, it certainly hasn't been the only outlet for her volunteerism.
Gleason has been choir director at Faith Lutheran Church for 25 years. And she and her husband are charter members of the Back Country Horsemen where she remains somewhat involved but no longer rides.
When asked how she could have be so involved and accomplish so much she replied, "You just do it. Everyone was in the same boat and they worked together."
Gleason's early life story tells of milking 10 cows before walking to catch the school bus and then milking those cows again when she returned home.
There's an old adage that says, "If you want something done, ask a busy person to do it." In Alice's case, the truth of this certainly has been born out.
This year's Flea Market and Craft Show is on Saturday, March 12, at the Ronan Community Center from 9 a.m.-4:30 p.m. There will be handmade items, paintings, jewelry, soaps, dolls and music boxes as well as flea market items and a silent auction. There will also be food and beverages for sale, including Indian tacos.
Alice acknowledges and thanks both vendors and club members for their work and insists the Job Corps be given credit for all of their assistance setting up and taking down tables for the annual event. "No one does it alone," she said.