Northwest Montana bear activity picks up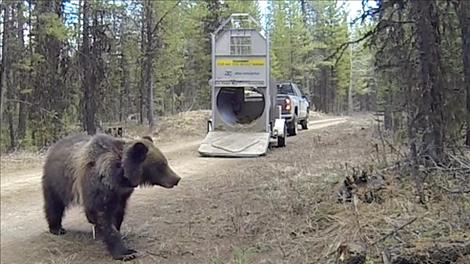 Montana Fish, Wildlife and Parks photo
News from Montana Fish, Wildlife and Parks
NORTHWEST MONTANA — A 3-year-old male grizzly bear was captured April 10 at a private residence along Tamarack Road northwest of Columbia Falls. The 211-pound bear was captured by FWP Bear and Lion Specialist Erik Wenum after the resident reported a bear had killed some of his young chickens.
The young bear was anesthetized, radio-collared, and released by Grizzly Bear Management Specialist Tim Manley. The Interagency decision was made to release the bear back into the wild since it had no previous known conflicts. The grizzly bear was released on the afternoon of April 11 in the Whale Creek drainage of the North Fork of the Flathead, 34 straight-line miles from where it was caught.
Black bear activity has picked up as well. FWP Bear and Lion Specialist Erik Wenum reports that he has handled two problem bears in the last two days and is attempting to trap four other black bears that have ranged close to residences. Wenum reminds
residents to take down bird feeders, secure garbage, feed pets inside, clean up chicken and livestock feed, and in general remove all odorous substances that can draw bears.
On Monday morning, a radio tracking flight was conducted to locate radio-collared grizzly bears in the Swan and Mission mountains. A total of eight radio-collared grizzly bears were located. Seven of the bears were out of their dens, but still in the upper elevations in the snow. A total of 16 grizzly bears were observed, including cubs, yearlings, and 2-year-olds that were with their mothers.
Additional flights are planned during the month of April to locate radio-collared grizzly bears in the Whitefish Range and the Middle Fork of the Flathead. One of the main objectives of the flights is to get visuals on adult females and the number of young they have when they first emerge from their dens. This allows biologists to track cub reproduction and cub survival throughout the year.
Manley reminds residents and recreationists to secure attractants and carry bear spray while in bear country. Residents can also protect their chickens, beehives, and other livestock from bears by properly installing and maintaining an electric fence. For more information you can visit the FWP website at http://fwp.mt.gov/fishAndWildlife/livingWithWildlife/beBearAware/