Polson student earns spot on national team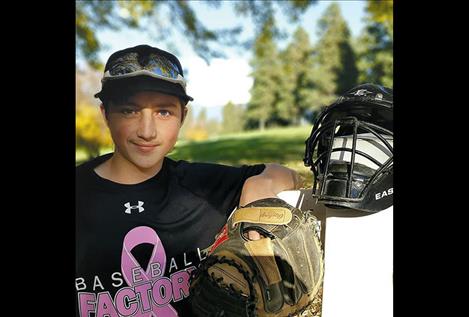 Logan Erickson, 16, Polson, has been selected with about 40 others from a pool of 20,000 contenders across the U.S. to play with an Under Armour Baseball Factory team.
Because he's been involved in camps with different colleges, he received an invitation to try out Oct. 9 in Spokane.
"It was actually a really good day," he said. "It was a pro-style workout that shows if you are able to do the tasks college coaches are looking for."
A good camp shows college coaches that you are ready to move to next level and ready to work hard at playing baseball, Erickson explained.
The Polson High sophomore has been playing baseball since first grade when he started with T-ball, and currently is a catcher with the Mission Mountain Mariners. A catcher, he explained, has to have durability to stay throughout the whole game and stay positive, and be a good leader.
"That was just the main spot I wanted to try be good at," he said of his position, although he's also pitched. "I noticed that a catcher is always the main leadership on the field to keep the team up and going. I've always worked on leadership, so it's a fitting spot."
Erickson is hoping to play college baseball at Gonzaga or Washington State — and perhaps go professional — "but if that doesn't happen, I'll go into sports journalism to stay in the baseball loop."
Erickson will play with the Under Armour Baseball Factory team in Mesa, Arizona, Nov. 10-13 and again Jan. 13-16.