The Quest Continues. Vikings conquer CJI Hawks, 60-2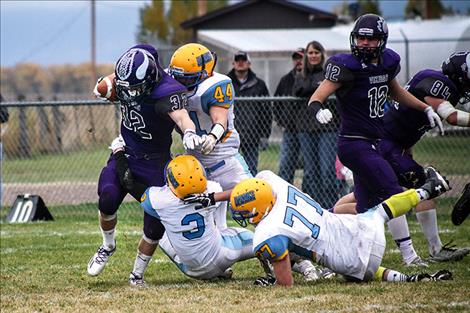 CHARLO — The Charlo Vikings are on a championship quest in the State C 8-man football playoffs, which began last Saturday afternoon against the Chester-Joplin-Inverness Hawks (5-4).
The challenge with any quest is the unknown.
"All we really know is what we've seen in film," Vikings' running back and linebacker Jared Doty said before the game. "So I think that the biggest challenge will be adjusting to their style of football and then once we get adjusted and get rolling."
It did not take long for the Vikings to get rolling. Vikings Kane Shenyer recovered a fumble deep in the Hawks' own territory, setting up the first of what would be three rushing touchdowns by quarterback Landers Smith.
"Our boys came out focused and ready to play," Vikings coach Mike Krahn said. "Defensively we pursued and tackled effectively."
Doty said the team "just came out swinging."
The Vikings defense on the day had three fumbles, one interception and seven tackles for loss yardage. Toby Odom sacked Hawks' quarterback Cory Richter in the end zone for a safety.
"We were able to get some key turnovers, giving our offense a short field," Krahn said. "Offensively we were able to spread the ball around and CJI could not focus on one player to shut down. Our offensive line played very well and we were able to move the ball on the ground effectively."
Landers Smith rushed 10 times for 91 yards, three touchdowns and a 7-yard TD toss to Toby Odom.
The fourth-ranked Vikings' quest for a state championship continues when third-ranked Fairview Warriors (7-1) come to visit, traveling more than 600 amiles across the state.
"Fairview is a very good football team and we have had some epic battles with them, the past few years" Krahn said. "We will continue to work on the fundamentals of blocking and tackling. We will be focusing on execution and playing sound physical football."
Results
Charlo 60, Chester-Joplin-
Inverness 2 Chester-Joplin-Inverness
0 0 2 0 - 2
Charlo 38 14 8 0 - 60
C - Landers Smith 4 run (run failed)
C - Jared Doty 33 run (Smith run)
C - Toby Odom 6 run (run failed)
C - Safety, Odom sacks Cory Richter in end zone
C - Odom 1 run (Doty run)
C - Smith 15 run (Doty pass from Smith)
C - Smith 42 run (Odom run)
C - Odom 7 pass from Smith (pass failed)
C - Shad Anderson 4 run (Brady Fryberger pass from Tyson Petticrew)
CJI - Safety, Charlo receiver tackled in end zone