Kettle Drive funds stay in county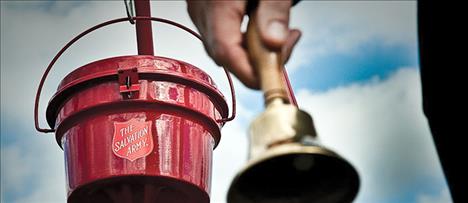 LAKE COUNTY — This Christmas Season when you shop at Super 1 Foods, Walmart, Pablo Family Foods and Harvest Foods, you will see volunteers from the Polson, Pablo and the Ronan area churches as well as community organizations ringing the bell for the Salvation Army Kettle Drive.
Over the last several years, the Salvation Army has partnered with the Helping Hands Fund, a project of the Polson Ministerial Association by providing vouchers to those who have emergency needs. The helping Hands Fund serves individuals with a hand up by providing food, lodging, utilities, rental assistance, bus tickets, transportation needs, personal care items and meals. Safe Harbor and the Polson Police Department also provide vouchers and are recipients of these funds.
Salvation Army vouchers, available through the Helping Hands Fund are a direct result of donations raised by the Kettle Campaign. The individuals you see ringing the bells Nov. 25 through Christmas Eve are volunteering their time to help those in our communities who are in need of a hand up, with 90 percent of all the funds raised during the Kettle Drive staying in Lake County. So when you see and hear a bell ringer, please put whatever you can afford in the kettle to help us raise the additional funds necessary to sustain our neighbors in their time of emergent need throughout the coming year. If you would like to volunteer to ring the bell please call 406-883-5908.