Arlee joins tribal officer staff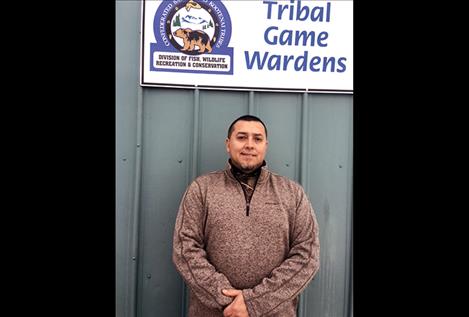 News from the Tribal Conservation Officers Program
PABLO — Travis Arlee joined the staff of the Tribal Conservation Officers Program on Oct. 2. Officer Arlee will work primarily patrolling the south end of the Reservation. "Travis brings a wealth of outdoors experience and we're happy to have him as part of the Conservation Officer staff," said Pablo Espinoza, Tribal Conservation Officers' Chief. "I'm impressed with his cultural knowledge and his enthusiasm in joining the enforcement team. I think Travis is a great asset to the Conservation Officer Program." Arlee has been an outdoorsman his entire life and said he loves everything outdoors. Salish language and culture are also a big part of his life.
Prior to coming to the Conservation Officer Program, Arlee participated in the Adult Language Apprenticeship Program through the Salish Pend d'Oreille Culture Committee. The Apprenticeship Program is eight to 12 months and is an immersion into language and culture.
Before joining the Adult Language Apprenticeship Program, Arlee was a detention officer at Tribal Law and Order for approximately three years. Arlee served as a bailiff and also assisted with bookings.
"As a conservation officer I get to be outdoors each day and I love that about this job. I'm excited to go to work every day," Arlee said.
For more information on the Tribal Conservation Officer Program, contact Pablo Espinoza or Germaine White at 406-675- 2700.