Winning fire prevention artists named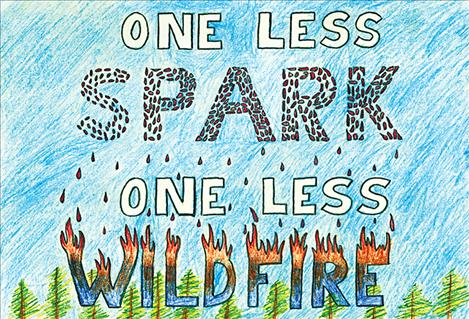 News from Keep Montana Green
MISSOULA – In celebration of Wildfire Awareness Month, Keep Montana Green (KMG) will be showcasing students' artwork throughout the month of May.
Businesses across the state will be displaying students' artwork along with a social media campaign. Be sure to check out www.keepgreen. org and follow us on Facebook and Twitter to see all the great artwork and receive wildfire prevention tips. #WildfireAwarenessMonth #ArtKMG
Nine out of ten wildland fires were human-caused in 2016. KMG's mission and the goal of the art contest are to promote awareness on how to we can prevent human-caused wildfires. The contest theme this year was, "One Less Spark One Less Wildfire."
This year marks KMG's 56th art contest, in which 3,000 students and 133 teachers from 100 schools from across the state participated. The art entries are first judged regionally where first, second, third are decided. Then, those entries are sent to Missoula to be judged with winners from all six regions. The state winners receive ribbons, cash prizes and statewide recognition.
Local statewide winners are: Julia Larsen, a 12th-grader at Hot Springs High School who took third place in the (10-12) Senior Division; Brook Alder, an eighth-grader at Charlo Schools who tied for second in the (7-9) Junior Division and Patience Bunce, a sixth grader at Arlee Elementary School who took third place in the (4-6) Intermediate Division.