Cultural representative thankful for life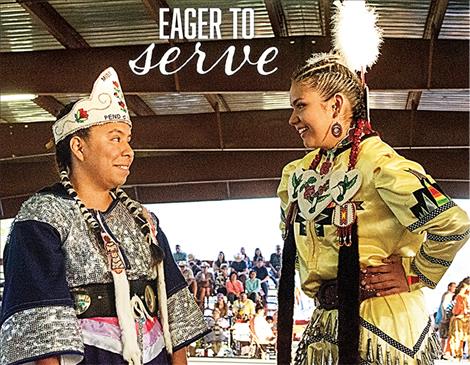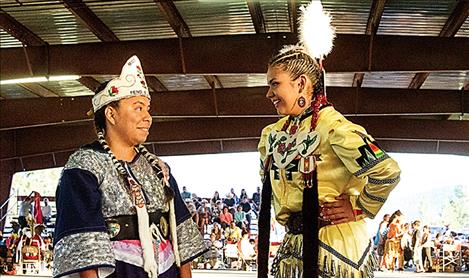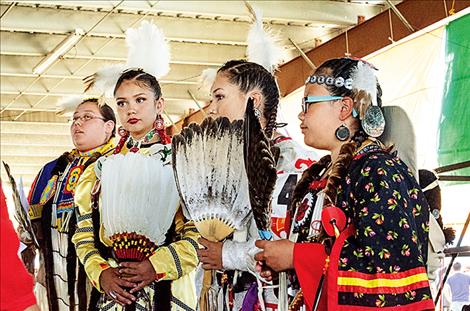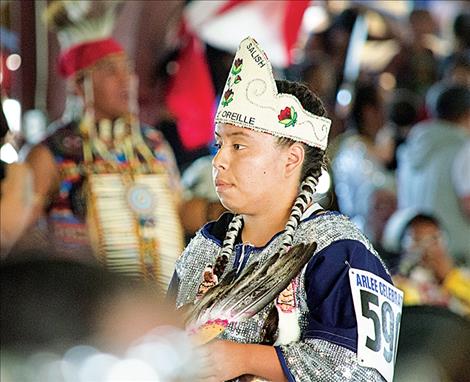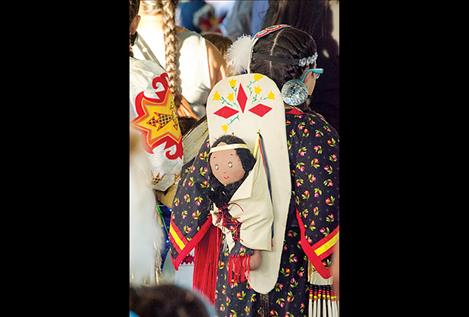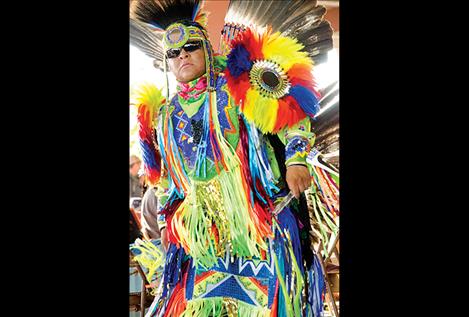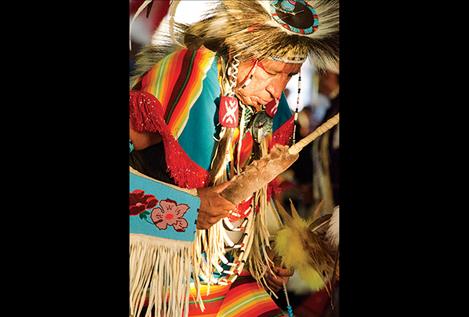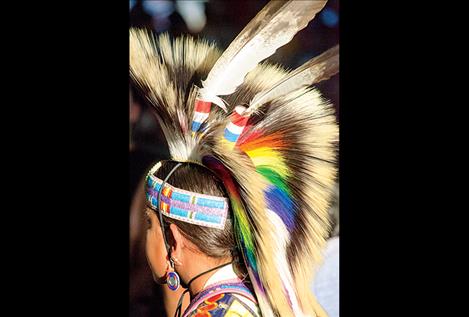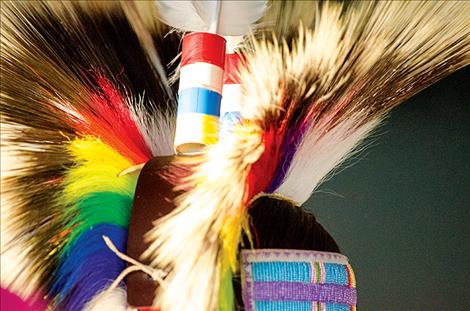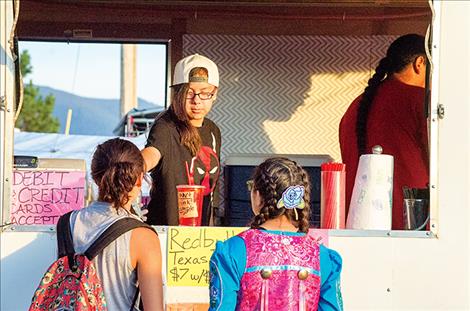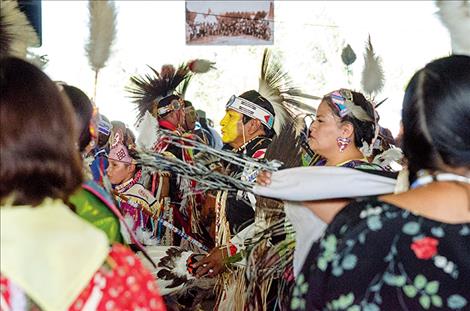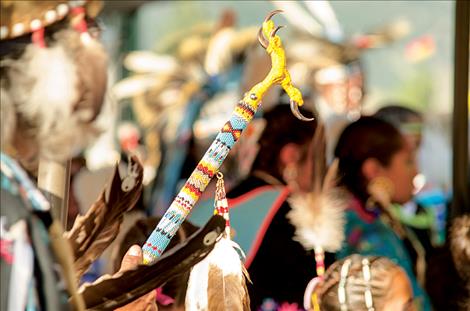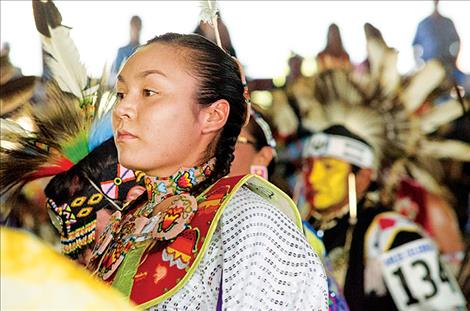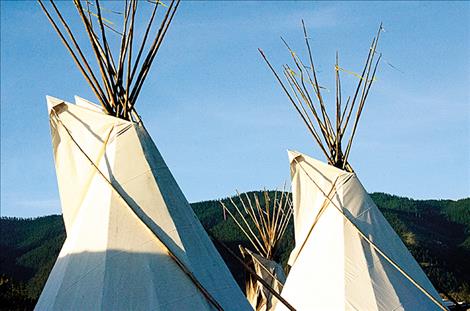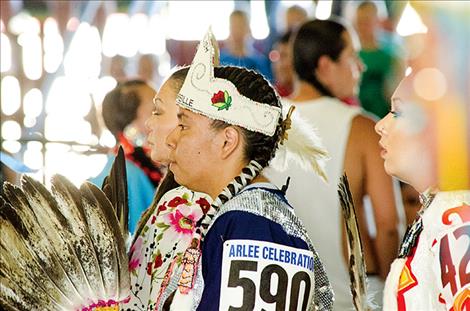 ‹
›
On the third day of the week-long 119th Arlee Esyapqeyni Powwow, this year's Miss Salish Pend d'Oreille was crowned.
Allyshia Manuel's year-long reign would soon end on that night as four contestants waited nervously before the grand entry to find out who would win this year's title.
Manuel was happy to be crowning the next representative but a bit sad that her year was ending. "I'm thankful for the experience and the opportunity to represent a great powwow and tribe," she said.
Last year, she was standing with another contestant waiting to find out who would win. "When they said my name, my mouth dropped," she said.
She spent the year attending powwows, perfecting her contemporary jingle-dress dance style, and attending cultural camps. She even met a few famous people, including a former Chicago Bears player while representing her tribe.
"This year was really important to me," she said. "It shaped who I am and helped me get out of my comfort zone. I'm not a talkative person, and at first, it was scary to talk to people, but doing this helped me with that."
She was crowned as the representative of a few other groups in the past including the Veterans Warrior Society Powwow in 2014. She has her sights set on Miss Indian World, but for now, she plans on taking a break from royalty and maybe go to college. She graduated from St. Ignatius High School this year. Manuel likes helping people and thinks something in the field of social work might be a good fit.
Ruth Swaney organized the event. She said crowning royalty during powwows is a relatively young tradition that goes to a person age 12-17 that is an enrolled tribal member or a descendant of a tribal member. "The first formal title at this powwow was given in 1976," she said.
"It was started as a way to select an individual to promote the cultural values of the celebration."
To compete, contestants write an essay describing their knowledge of the Salish and Pen d' Oreille traditions, language, and culture. They also dress in full regalia for the judges to inspect.
During this year's contest, four contestants were introduced to the judges and the public before the grand entry including Luliana Brown, 10 of Ronan; ArriAnna Henry-Matt, 17, of Arlee; Meilani Morning Owl Decker, 17 of St. Ignatius; and Leniece Trahan, 16 of Ronan.
After the grand entry, there was an announcement to honor the drum groups and a ceremony to pick up a lost eagle feather. Dancers circled the powwow grounds dozens of times, and as the sun started to set, the announcement was made, and Leniece Trahan, know as Lene, was crowned this year's Miss Salish Pend d'Oreille.
She fought back tears as Manuel placed the beaded crown on her head. "I wanted to cry, but I sucked it in," she later said.
Her winning essay was about the importance of her culture. "I believe in out culture, the medicine, and the language," she said. "I'm still learning about the old ways, and I have a lot to learn, but I'm so happy to be here."
Trahan said she dreamed about one day representing her tribe and the powwow, but at one point in her life, she didn't think she would ever get the chance. When she was 12 years old, she battled bone cancer for almost a year and won.
"Now, I'm going to celebrate this, enjoy the powwow, and start planning what I'm going to do for my tribe this year," she said.