Man gets 5 years for high speed chase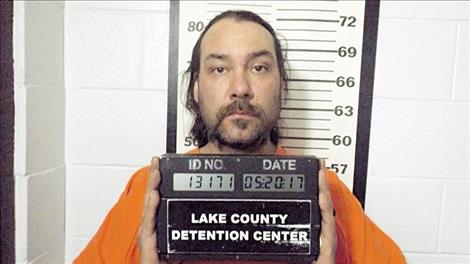 POLSON – District Court Judge James A. Manley sentenced a 40-year-old Elmo man to five years in the Department of Corrections last week for his sixth felony.
Manley rejected a proposed plea agreement that called for Boe Alan Miller to receive a three-year suspended sentence for theft.
Miller was charged following a high-speed chase with law enforcement on May 19. According to a court document, Miller was spotted by law enforcement traveling on a motorcycle on U.S. Highway 93 at speeds over 100 mph. Several officers were involved in the chase, which continued on North Crow and Canal roads.
At one point, Miller slowed the motorcycle and jumped off. According to a court document, he was arrested following a foot chase and said that a woman passenger told him the motorcycle was stolen when he slowed it down prior to the chase. The motorcycle had been reported stolen from Arlee on May 14.
In addition to the five-year sentence, Miller was ordered to pay $2,914 in restitution and $980 in fines and fees. Manley recommended him for the nine-month Nexus drug treatment program.
Miller's sentence will run consecutive to one he received from a 2014 case in which he was sentenced to 10 years in DOC with five suspended for theft and a five-year suspended sentence for criminal endangerment. His attorney, Camisha Sawtelle, said Miller had been out on early release from that sentence when he was arrested in May.
In the earlier case, Miller was convicted following the theft of a construction trailer from Salish Kootenai College in March 2014. He subsequently tried to elude law enforcement and drove 80 mph, jumped out of a vehicle on 10th Avenue in Polson and was arrested after being Tased twice.
Sheriff's Deputy Ryan Funke had attempted to block Miller on Light Road, but had to drive into the ditch to avoid a collision, a court document states. In addition, several oncoming cars were forced to pull off the road to avoid being hit in Polson.
In rejecting the plea agreement last week, Manley said Miller is a danger to the community. He gave Miller the opportunity to withdraw his guilty plea and go to trial, but Miller declined.