SKC marks 40th anniversary by honoring founders
Salish Kootenai College celebrated their 40th anniversary last week. Part of the week-long festivities known as Founders Week included honoring the following five men and women for their many contributions to the college.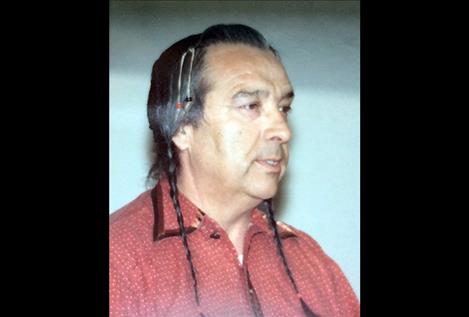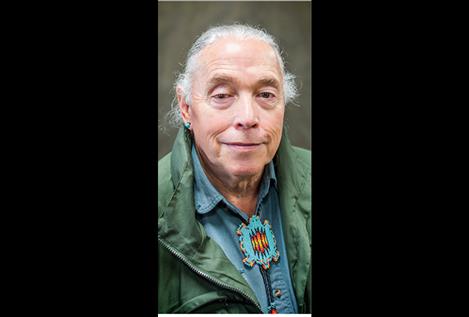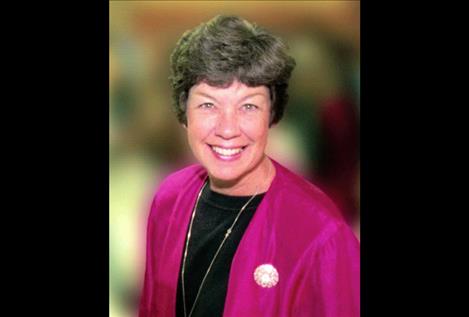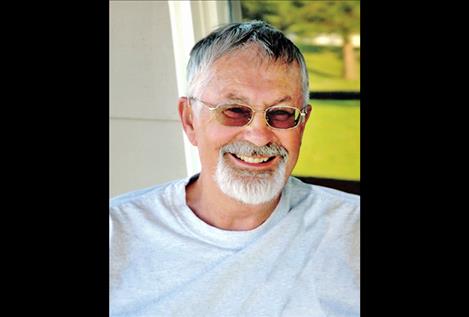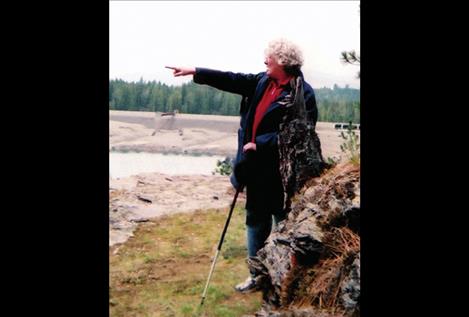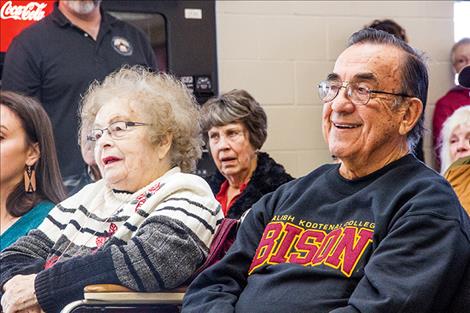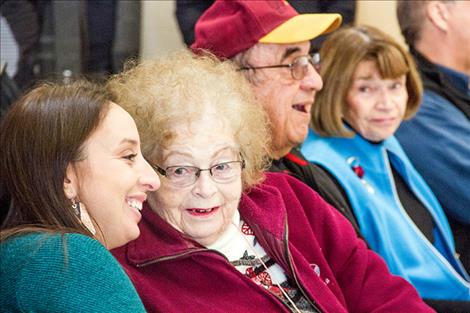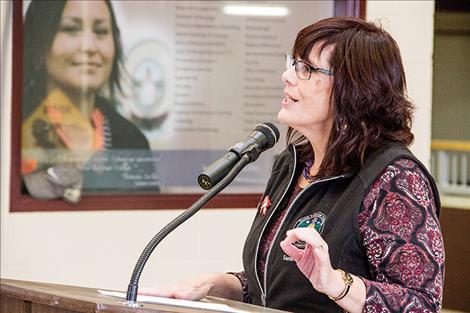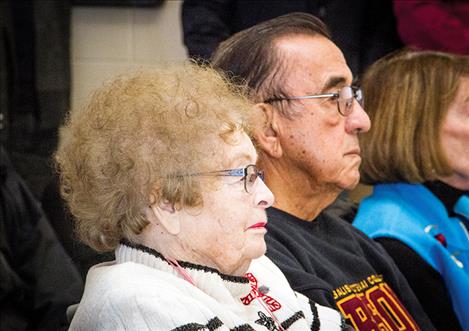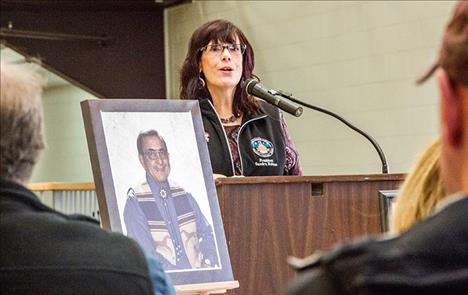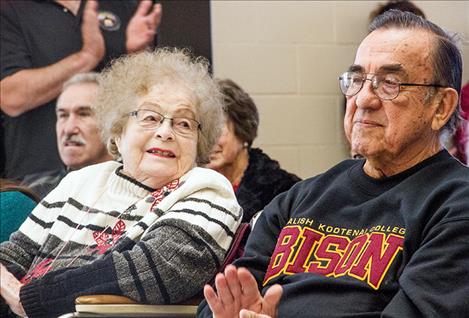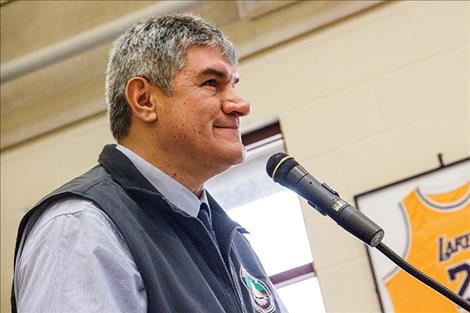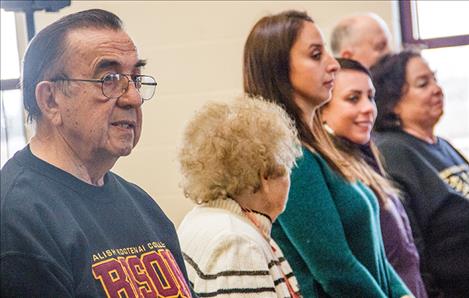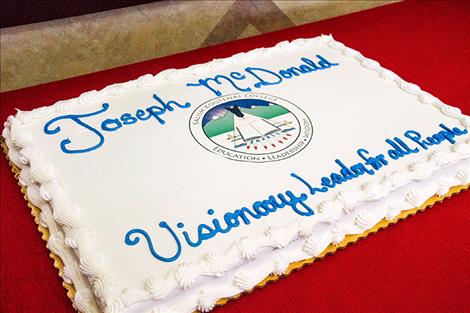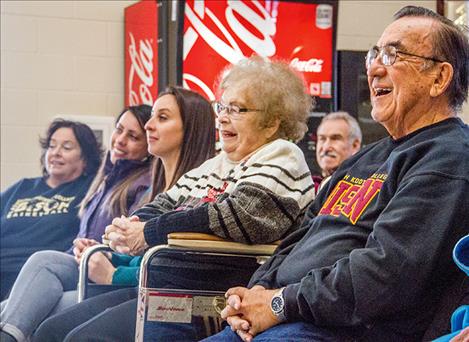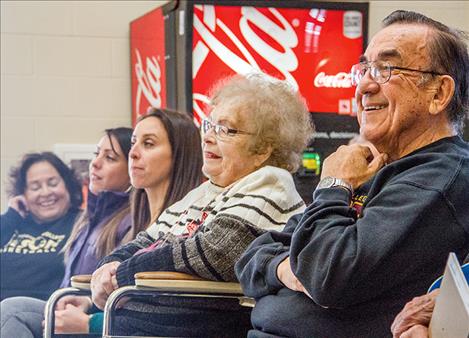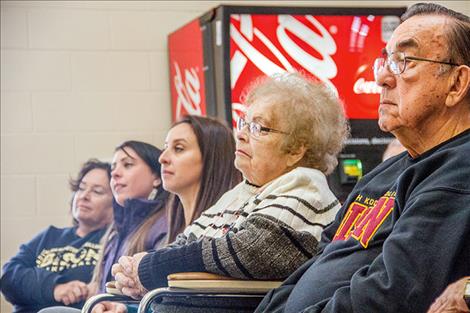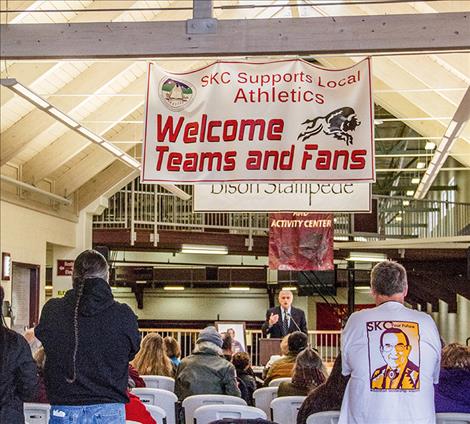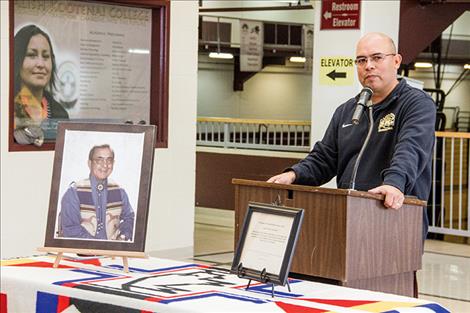 ‹
›
CORWIN (CORKY) CLAIRMONT
"Art provides a powerful connection to our culture and gives us a way to share it with the world."
Corwin "Corky" Clairmont is an enrolled member of the Confederated Salish and Kootenai Tribes. Clairmont was born in Saint Ignatius, and currently resides near Ronan. He received a Bachelor of Arts Degree from Montana State University in 1970 and a Master of Arts Degree from California State University Los Angeles (CSULA) in 1971. Clairmont remained in Los Angeles after graduating from CSULA, pursuing a contemporary exhibiting artist career, and began a nine-year teaching position as head of the printmaking department at Otis/Parsons Art Institute.
Upon returning to Montana in 1984, Clairmont began working at the newly accredited Salish Kootenai College. He was the Inter-Campus Coordinator between the Fort Belknap, Rocky Boy, and the Welpinit College campuses and the Kicking Horse Job Corps. Clairmont was also the Director of the American Indian Math and Science Camp for 14 years; it provided a cultural arts and science experience for over 1,000 sixth graders. His work at SKC included the creation of the Fine Arts Department and the degree program. Clairmont also taught various art classes and Native American Images in Film classes at SKC. Clairmont retired from SKC in 2012.
Clairmont's artwork has been exhibited throughout the United States, Europe, Africa, and most recently in China. As a professional artist, printmaker, conceptual and installation artist, Clairmont's images discuss and explore, through cultural and historical perspectives, issues such as sovereignty and colonization that affects tribal people.
DAVE MARSHALL
"Hands on instruction, in the field, is often the best way to share knowledge with our students."
Dave Marshall was born on Nov, 16, 1937, in Butte, to Edward and Martha Marshall, of Cornish and Scandinavian descent. Marshall graduated from Butte High School in 1956 and then attended Montana School of Mines (now Montana Tech) on a small scholarship for one year. He transferred to Montana State University in Bozeman for two quarters, and later attended the University of Montana. Marshall received his bachelor's in Wildlife Technology in 1961 after completing the summer quarter at the University of Montana's Biological Station at Yellow Bay on Flathead Lake.
After five years, Marshall returned to the Zoology Department at the University of Montana for one year of graduate study in "small mammals" and then moved to North Carolina to study under Dr. Howard T. Odum for a degree in Marine Ecology.
Upon returning to Montana, Marshall worked as a cowboy on the Gilbert Cattle Ranch, now owned by Ted Turner, and then moved to Libby to take a County Sanitarian position.
He has served as an intermittent sanitarian in Sanders, Lewis and Clark, Madison and Gallatin County.
Marshall was hired at Salish Kootenai College (SKC) to facilitate the newly founded Natural Resources Program, which was funded through a 4-year grant from the State of Montana. He enjoyed this position immensely. Marshall opted to think outside conventional methods as an effective mode of teaching/learning, and he focused upon hands-on field trips as more interesting and effective ways of teaching.
MOSELLE DEPRIEST
Early Beginnings of the Salish Kootenai College Secretarial Science Program: "One must fully embrace the culture in order to understand our students."
Moselle (Depriest) Paulson will tell you that teaching secretarial skills at Salish Kootenai College was both an honor and a privilege. In 1977, there was no classroom; Kicking Horse Job Corps "loaned" their facility to accommodate night instruction. Early classes were small and when students with no transportation needed rides, she picked them up and took them to class with her. By 1978, a building was secured in Ronan and the Secretarial Science Program grew each quarter. The Ronan location housed the first "real" classroom and within six years, secretarial classes were offered in Pablo, Saint Ignatius, Arlee, Elmo, Dixon and Polson.
A highlight of her time at SKC was a summer Native American encampment taught by ElderAgnes Vanderberg and located in the Jocko River area. It was there she learned to appreciate the culture, traditions, and values of Native Americans.
Paulson is very proud of the many graduates of the program who went on to work for the Tribe and for the College.
PAT HURLEY
"The greatest moments are when you see students realize their own intelligence."
Pat Hurley (fondly known as Auntie Pat) was born in Carrizozo, New Mexico, and raised in El Paso, Texas, in a loving and adventurous family. Her love of the outdoors began early when her family would take weekend and vacation camping trips all around New Mexico and the West. She excelled as a student and after graduation attended the University of Texas El Paso; earning both her bachelor's and master's in biology. Her first job was developing curriculum for the Community College in El Paso. While raising her daughter as a single parent, she noticed an ad, looking for a curriculum designer for the newly founded Salish Kootenai College.
After packing up her daughter and driving to Montana, she arrived in Pablo in late November rest 1979. She developed the curriculum for science classes; and then began teaching Biology 101 and Geology. She continued to teach Biology 101 for her entire tenure at SKC. She also enjoyed teaching new classes, especially in areas that she didn't know very well. She would spend the summer studying the subject and then continue learning with her students throughout the course.
Hurley felt her greatest professional achievement was creating the four-year accredited programs in environmental sciences and forestry. She loved working with her students and respected them greatly. Even after Hurley retired in 2015, she taught one or two classes per quarter up until her death in March 2017. Hurley was instrumental in helping the SKC community grow and thrive for 35 years.
RON THERRIAULT
"We must always remember our history and preserve our culture." Therriault was born Nov. 2, 1931, in Stockton, California. After a childhood in the Great Depression, Therriault began his relationship with the U.S. Army at the age of 18, a relationship that spanned over 25 years.
Therriault obtained his Bachelor of Arts in Comparative Psychology from Antioch University. In 1979, with his wife Ginny, Therriault retraced his steps back to the land of his people on the Flathead Reservation. He first began his relationship with Salish Kootenai College as a grant writer. Later, as both an instructor and the director of the Native American Studies
Department at SKC, he became instrumental in developing the Native American Studies curriculum and assuring the school's accreditation. Along with education in the classroom, he coordinated instructors for cultural encampments to encourage the learning of traditional skills of the Salish and Kootenai tribes.
Throughout his life, Therriault moved between two worlds, and many sub-cultures. He devoted his life to learning and educating. Being a part of SKC allowed Therriault to live on the reservation and be a part of a community.
He was a master storyteller, both of his own life and the stories of the Salish and Kootenai peoples. Therriault was passionate about history and cultures and preventing the loss of these in both his own tribes and other indigenous peoples across the United States.