Bourdon pleads not guilty to alleged rape charges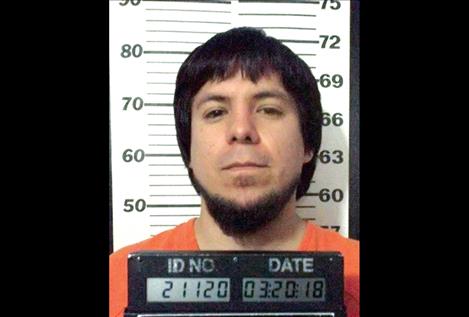 A Washington state man with ties to Lake County entered a plea of not guilty at District Court in Polson on March 22 to two counts of rape, criminal endangerment, strangulation of a partner or family member and tampering with informants – all felonies.
According to charging documents, the investigation began when the alleged victim, identified by the initials C.M. reported that she had received texts from 26-year-old Damian Ray Bourdon, in violation of a no contact order. C.M. would go on to state that Bourdon raped her in September 2017 despite her not being medically cleared to engage in sex due to an inflammatory pelvic disease. She stated that the rape caused her more pain and bleeding. She went on to describe another rape that reportedly occurred in October 2017 in Polson that involved her being choked.
The alleged victim claims that in November 2017 Bourdon called her on the phone knowing she had made reports of abuse to law enforcement against him. C.M. stated that during this call Bourdon told her he has nothing to lose and should just kill her and tried to get her to recant her story.
District Judge Kim Christopher set the case for trial commencing July 23 with a pre-trial hearing set for May 17. In the meantime Bourdon remains in the Lake County jail with bond set at $100,000.