Dolores Chacon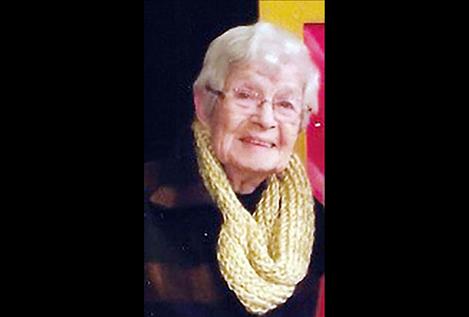 ST. IGNATIUS – Dolores Saldivar Chacon passed away at the home of her son, Frank Delgado, on March 29, 2018, at the age of 96. She was the third child of Domingo and Isidra Saldivar in a family of twelve, the first to be born in the United States in Somis, California on Dec. 3, 1921.
Dolores lived in East Los Angeles, California, and Laughlin, Nevada, moving to Montana in 2013 after the death of her second husband, Philip Chacon. Dolores is a member of St. Paul Lutheran Church, Ronan and rarely missed a service.
Dolores worked as a Prototype Electric Motor builder for Skurka-Langdon for 40 years and was held in great esteem by the owner, Mr. Skurka. He said that Dolores' talents and extraordinary loyalty attributed the company's success.
She enjoyed reading, (could read several books a week), and cooking Mexican food. After a brief marriage, Dolores found herself raising two sons with the help of God and her mother. Both her sons are upstanding men who were taught respect, honesty, and love of country. No easy task for a single mother to tame two rambunctious sons with love and tough discipline.
While living in Montana, she enjoyed the Bison Range, going to the movies, going out to breakfast after church and especially playing Bingo at St. Luke Extended Care in Ronan with the other ladies at her table. She enjoyed getting to know David and Amy Vaughan, Michal's daughter, son-in-law and children Hannah, Philip, and Star. She loved to go to Philip's baseball games and have ice cream with the kids.
Dolores is survived by her two sons and their wives: Frank and Michal Delgado, Edward "Eddie" and Helen Delgado and her stepson Armando Chacon (Harriet) of California; grandchildren: Mark, Estella, Elizabeth, Darlene, Cynthia, Eddie Jr., David, Philip, and Steve, of California; and Carmen Depoto of Arizona; numerous great-grandchildren and great great-grandchildren; and two brothers: Albert (Sally) Saldivar of Arizona and Enrique (Virginia) Saldivar of California.
A memorial service will be held Saturday, May 19, at 3 p.m. at St. Paul Lutheran Church, 35681 Terrace Lake Road in Ronan.
In lieu of flowers, donations can be made to St. Luke Extended Care; Resident Activity Dept. 107, Sixth Ave. SW, Ronan, MT 59864 or St. Paul Lutheran Church.