Littlelight sentenced to Montana State Prison following robbery, chase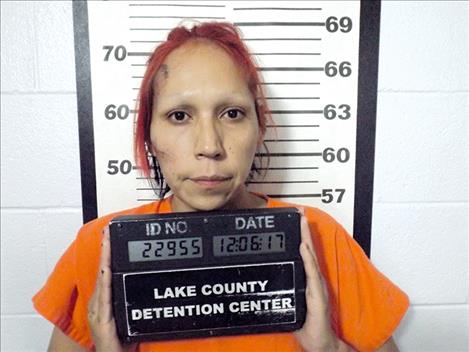 A retired special agent with the FBI who now practices law in Polson says his client was abused by law enforcement during her arrest after a high speed pursuit last December. The claim was made in a sentencing memorandum by Attorney Edward G. "Ted" Chester Jr. on behalf of his client, Alta Collette Littlelight, 35, of Harlem. Littlelight was sentenced at District Court in Polson on May 16 to the Montana State Prison for 20 years with 10 years suspended on an assault with a weapon charge. Littlelight's co-defendant, Roishelle Elizabeth St. Dennis, received the same punishment on the same charge, both by way of plea agreements that dismissed a criminal endangerment charge against Littlelight and an attempted deliberate homicide charge against St. Dennis.
According to court records, on Dec. 6, 2017 St. Dennis and Littlelight were allegedly involved in a robbery and were fleeing the scene when authorities in Missoula began their pursuit. The pursuit was ended for safety reasons when the suspects' vehicle traveled northbound onto U.S. Hwy. 93. A description of the suspects' vehicle was forwarded onto law enforcement in Lake County along with Flathead Tribal Police and an attempt to locate the vehicle was issued. A Flathead Tribal Police officer spotted the suspects' vehicle passing other motorists in a no-passing zone and re-initiated the pursuit. It reached speeds of up to 90 miles per hour over Ravalli hill. The suspects then traveled onto back roads north of St. Ignatius when St. Dennis, a passenger in the vehicle, allegedly displayed a firearm and pointed it at a responding officer.
That was the initial report.
Chester claims in his sentencing memorandum that shots were never fired by the suspects and that they never had ammunition for the weapon they were carrying. The state never got the pistol tested to determine if it had been fired and law enforcement actually fired three rounds at the suspects when they had stopped while showing no imminent threat to the officer. Chester's memorandum further claims that an investigation by the Flathead County Sheriff's Office and Montana Highway Patrol conclude that a bullet fired from the tribal officer's weapon entered the suspects' vehicle through the trunk, went through a backpack and lodged in a speaker in the trunk. The other two rounds were not found.
Chester requested all references to shots being fired by the suspects be stricken from the pre-sentence investigation.
Chester's memorandum further claims that though she showed no signs of resisting arrest, the tribal officer ground Littlelight's face into the ground with his foot for about 43 seconds while a Lake County Sheriff's Deputy searched the suspects' vehicle.
Judge James Manley said he took special notice of the memorandum and it's allegations especially as it was submitted by a retired FBI agent.