Artists exhibit at Ninepipes Museum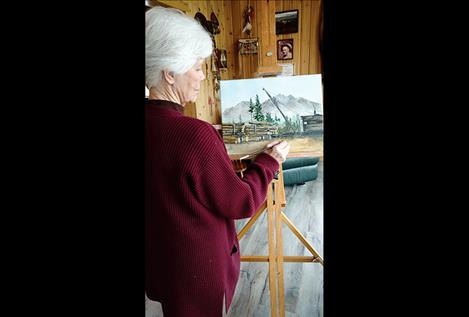 News from the Ninepipes Museum of Early Montana
NINEPIPES – On Saturday, June 2, two artists will exhibit their creative works inspired by the world around us at the Ninepipes Museum of Early Montana. The museum's "First Saturday" artists are Laurel Cheff, one of the museum's co-founders, and Kate Davis, the Executive Director of Raptors of the Rockies. Having a love of nature and history as practically part of her DNA, Laurel will share a few paintings depicting Polley's Lumber Company Camp No. 3, which in the early 1900s was situated on part of Bud Jr. and Laurel's ranch. Bud Jr. wrote a story in the museum's winter newsletter that told about this interesting point of history on the Flathead Reservation, and he will have some logging artifacts on display during the artists' exhibit. Laurel will also display a number of other scenic oil paintings.
Kate Davis, the founder and Executive Director of Raptors of the Rockies, is also a talented multi-media artist. Her first piece of art was published in the Cincinnati Zoo News in 1975. Since then she has become an internationally recognized wildlife artist and national award-winning taxidermist. Davis studied welding metal bird sculptures under Montana artist Bill Ohrmann in 2004. She will bring some of her latest wildlife photos to exhibit at the museum, and will be on hand from 2-4 p.m. with her Peregrine Falcon, Sibley.
Nancy Vaughan's delicious fry bread and Indian Tacos are also part of Saturday's offerings so come hungry and enjoy some of her tasty treats. Call 406-644-3435, for details.