Local woman goes missing in Missoula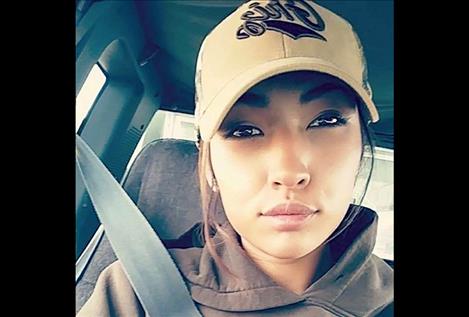 MISSOULA – Authorities are searching for Jermain Austin Morigeau (Charlo), of Dixon, who is listed as a missing person with the Missoula County Police Department. Charlo, whose nickname is Liz, was last seen at the Orange Street Market on June 16, 2018, in Missoula at about 1 a.m. She is 23 years old.
The City of Missoula Police Department posted the following notice on Facebook June 21: "We are requesting your help in verifying the welfare of Jermain Morigeau (Charlo). Jermain is a Native American in her early 20's, 5'08 and 130 pounds, and was last seen near Orange and S. 5th Street early Sunday morning. She was last seen wearing blue jeans, a white T-shirt with a brown Under Armour sweater over it, with cowboy boots on. Anyone who has seen Jermain is urged to call 911. Her family has not heard from her since last weekend and are very concerned about her well-being, and we want to make sure she's OK."
According to a family member, Charlo traveled from Dixon to Missoula to take a pack test to become a firefighter on June 16 and never returned. She was expected home the same day.
Morigeau is further described as having a flower tattoo on her chest and a deer tattoo on her left shoulder blade.
Those with any information about her disappearance or whereabouts are asked to contact Detective Lang with the Missoula County Police Department at 406-552-6300.