Dealing with back-to-school butterflies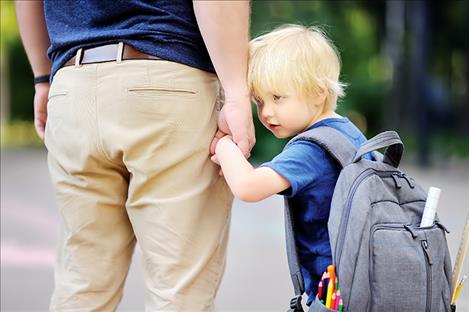 Anxious feelings about the startup of school generally affect both parents and children. Parents may not look forward to stricter bedtime practices and the return of homework routines. Children's concerns generally center on their clothes, friends, or academic abilities. Fears about new teacher(s) are common as are worries about whether something should happen to their parents while they are at school.
Parents can ease back-to-school anxieties by first checking in with themselves. Parents' feelings about school easily transfer to children and affect their attitudes and behaviors. Taking a positive approach to school and the routines it requires, cues your children that returning to school is a good thing.
Provide opportunities for your children to talk about returning to school. Casual settings such as a car ride to the store create less stress than a sit-down talk. Acknowledge children's feelings with an "I understand," or "Tell me more." This not only encourages children to express themselves but also helps them build confidence in their own abilities to handle life's stresses on their own. It can be difficult for parents to keep from immediately jumping in with a fix for their concerns but it's important for children to develop their own personal coping skills. Parents can use their experience and wisdom to help children brainstorm a plan for coping with anxieties. If after a few weeks of school attendance your child complains of stomachaches, headaches and fatigue and "can't go to school ailments," talk to the teacher and consider a trip to the pediatrician to rule out health issues. Continued school anxiety may need some assistance from a mental health professional. No matter the problem, remember most children are very resilient.
Helpful tips for back-to-school readiness:
— A few weeks before school begins, incrementally move bedtime back and make rising in the morning start earlier. Children need 10-11 hours of sleep to be fully rested.
— Familiarize your child with their school, the playground, the bathroom, their classroom, the bus (if applicable) and their teacher.
— Practice laying out clothes for the next day, eating a healthy breakfast in an unhurried way, and run-through the school arrival routine. Repetition teaches skills effortlessly.
— Create a reconnection with a school buddy before school begins. Research shows having a friend in school improves academics while providing emotional support.
— Make a fun trip to shop for school supplies and lunch ingredients.
— Read books about going back to school and talk to school-age siblings or other children.
— Approach returning to school with positive questions such as, "What do you most look forward to learning this year?"
School day routines:
— Be prepared and unrushed in the morning. As much as possible, get things ready the night before: clothes, lunch, homework.
— To provide some extra security and comfort, provide a special item from home to take to school. An occasional short note in the lunch bag may give a bit of needed reassurance.
— Never sneak away without saying goodbye, even if your child is upset. Goodbyes inform your child what to expect, even if they don't like it. A happy dependable goodbye ritual helps.
— Promote a sense of predictability by being on time for after-school pickup and develop an after-school routine.
— Reward responsible school behavior and devote special time to listening to your children talk about their concerns, successes and daily school activities. Be specific with questions rather than asking the generic, "What did you do today?" Ask them to explain, tell, report, discuss, demonstrate and show you what happened during recess, math or lunch.
School attendance provides opportunities to learn many necessary skills, including how to handle new and unfamiliar situations; how to cope with strong and sometimes fearful emotions; and how new activities can turn into favorite routines.