Mission Valley gridironers earn All-Conference Team honors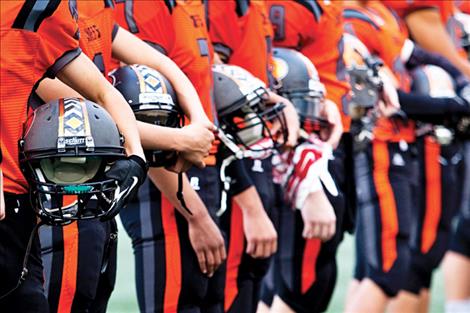 LAKE COUNTY – Eighteen members of varsity football teams across Mission Valley earned All-Conference and All-State recognition from the Montana Coaches Association for their efforts this season.
In Class A, Polson Pirate Trevor Schultz was awarded First Team All-Conference honors on offense in the tight end position. Ronan Chief linebacker Bubba Bush earned a Second-Team All-Conference nod on defense. Receiving Class A All-Conference honorable mentions were Pirate cornerback Ryker Wenderoth and Chief wide receiver Kane McAllister.
In Class C, three Arlee Warriors received both All-State and First-Team All-Conference honors, including quarterback Lane Schall, tight end Lane Johnson and wide receiver Chase Gardner. Teammate CJ Forgey joined the trio as a First-Team All-Conference honoree. Darshan Bolen, Skyler Titsworth, and Kanoa Palazzolo all grabbed Second-Team All-Conference honors for the Warriors, while Colt Crawford earned an All-Conference honorable mention.
For the Mission Bulldogs, senior wide receiver Wacey McClure received both All-State and Second-Team All-Conference selections. Cole Gilleard and Troy Matt snagged All-Conference honorable mentions.
For the Charlo Vikings, Second-Team All-Conference accolades went to Darien Liberty, Brock Tomlin and Levi Gaustad.