Crash victims experience fatal cardiac events, dog rescued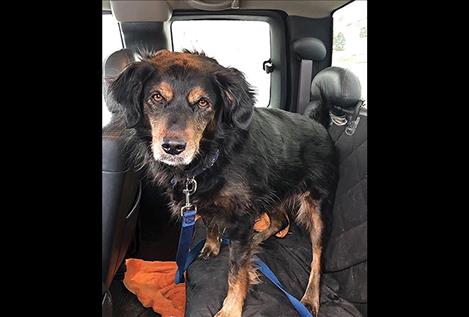 POLSON – Two fatalities occurred on Tuesday, Jan. 8, involving a car that crashed into the back of Murdoch's Ranch and Home Supply store on Heritage Lane at about 1:12 p.m., but the crash wasn't the cause of death for either victim.
Lake County Sheriff Don Bell said the driver, Mervin Payne, 76, suffered a cardiac event that likely caused him to travel through a field, over an embankment and crash into the store, causing damage to the building.
Crystal Anderson, 57, of Polson was a passenger in the car who was also experiencing a heart-related issue.
"Neither Payne nor Anderson suffered injuries from the crash which would have caused their death," Bell said. "Payne died of natural causes, and Anderson died from a cardiac event subsequent to the motor vehicle accident."
The Polson Police Department and Polson Ambulance responded to the incident. Bell said an emergency medical team attempted life-saving measures on the unresponsive driver who died at the scene. Anderson was transported to a local hospital. "She died a short time later," Bell said.
Sheriff's Office coroners conducted an investigation with consultation from the Montana Highway Patrol and the State Medical Examiner to determine that Payne had suffered a cardiac event.
Payne's dog, Babe, was riding in the car when it crashed.
"The Lake County Sheriff's Office would like to thank the staff at Murdoch's of Polson for caring for a dog who was involved in the crash while responders tended to the victims and the scene," Bell said. "We also wish to extend our condolences to the Payne and Anderson families."
Life Savers Animal Rescue was called to help Babe find a foster home. On a Facebook post, the animal rescue team sent out an appeal to the public to help get the dog a ride to Washington where she had a permanent home waiting for her. Babe's family member was unable to travel to Montana due to health issues.
On the Facebook post, a message stated that a "good" person pulled Babe out of the car after the crash. She didn't have any injuries. "She is an older dog and obviously confused but is safe in one of our foster homes and being well cared for. Babe's owner made plans for her if she outlived him. She has family to go to in Washington."
Many people responded to the post.
"I was blown away with the generous response from the community," said Nancy Hemphill, volunteer. "We had so many people offering to help. We chose someone traveling to Washington to attend a dog show to give Babe a ride."
On Thursday, Babe was headed for Washington.
"She lost her owner, but she will be with people she knows on a farm where she has been before," Hemphill said.
Vickie Redford, another Life Savers volunteer, said the group utilizes foster care to help animals in need like Babe. They also work with animal shelters and currently have a five-month-old puppy in need of hip surgery. Donations or volunteer service is welcome. More information can be found at www.lsar.org or by calling 406-676-4200.