Players open '12 Angry Men'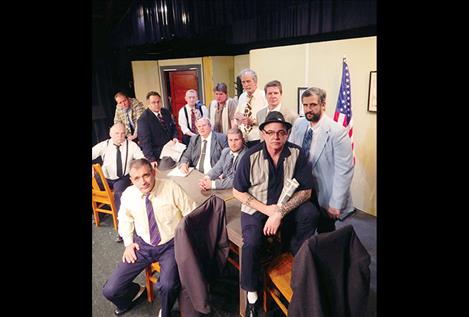 News from Port Polson Players
POLSON — Even though a snow-related accident took out the Highway 93 theatre sign on the south end of Polson, "The Show Must Go On," as The Port Polson Players, in association with Mission Valley Friends of the Arts, present Reginald Rose's award winning play, "12 Angry Men," on stage at Polson's beautiful Theatre on the Lake. The show plays two weekends, March 22, 23, 24 and March 29, 30, and 31, with curtain Friday and Saturday evenings at 7:30 p.m. and Sunday matinees at 2 p.m.
"Twelve Angry Men" won an Emmy award for a production starring Henry Fonda and Lee J. Cobb, along with three 1957 Oscar nominations. It was also voted for preservation by the U.S. Library of Congress as being "culturally, historically and aesthetically significant."
Director Neal Lewing has set the Players' production of this classic in the late '50s, when the show was written. In all 50 states, women didn't serve on juries until 1973. In the script for "12 Angry Men," eleven jurors are convinced the defendant, a teenage boy, is guilty of murder; the 12th has no doubt of his innocence.
According to Lewing, "'12 Angry Men' is an extremely powerful and suspenseful piece supported by a Mission Valley cast who are each perfect in their roles. It's a true community effort." Attorneys at Law Matt O'Neill and Tyler Moss are sponsors for the show. "In addition," said Lewing, "the county commissioners okayed our borrowing 12 period wooden chairs from the jury room at the Lake County courthouse."
Tickets are $16 for adults and $15 for senior citizens and students. The show is recommended for adult and high school audiences. Go to PortPolsonPlayers.com or call 406-883-9212 for reservations or more information.