Tribal Health welcomes new medical director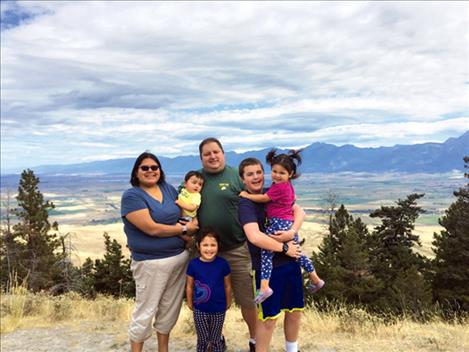 News from CSKT Tribal Health Department
ST. IGNATIUS – Tribal Health announces Bernadette Corum, MD, as the new medical director.
Corum's main duties include seeing patients, all ages, from newborns to elders. Additionally, Corum performs some critical administrative duties, helping support the operations of the medical clinics of Tribal Health.
Corum is Navajo/Diné from the rural area of Crownpoint/Mariano Lake, New Mexico, and spent time growing up in both Utah and New Mexico.
"We are pleased to have Dr. Corum at Tribal Health as our new medical director," said acting department head Joe Durglo. "It is valuable for our organization to have a tribal doctor, and we are grateful for the professional skills and cultural sensitivity she brings to our community."
Corum received her education from the University of New Mexico, with undergraduate degrees in biology and psychology. Her medical degree and residency were also completed at the University of New Mexico.
Choosing health care as a profession is deeply personal to Corum, starting with exposure to the complex world of medicine when her younger sister was diagnosed with leukemia.
"My sister was in and out of the hospital before ultimately passing at age eight," said Corum. "It became my mission to understand more about medicine and science. During college, I considered going into biology, but it wasn't until I did an internship at Shiprock Indian Health Service that I felt my calling. I shadowed doctors, who with good hearts, were working on the reservation but lacked sensitivity about the culture. I thought, how would that interaction be different if I was the provider and could be the liaison between medicine and patient care? I became dedicated to that mission and was accepted to be an IHS scholarship recipient and then Loan Repayment Program awardee."
Prior to working at Tribal Health, Corum served for 7.5 years at Fort Hall IHS in southeastern Idaho. After completing her educational payback obligations there, she became the clinic director.
Though she hails from high-desert country, Corum says she is grateful to be working and living on the Flathead Reservation. "I was ready for a change when the Tribal Health opportunity presented itself," she said. "My husband is from Ronan, and in the 10 years we've been married I've never gotten tired of that view of the mountains coming up by the Bison Range or the beautiful sunset. I love the nature that is close at hand. We wanted an opportunity to have our children be near family."
In her spare time, Corum enjoys doing art and quilting. She likes going on road trips and spending time with their four children.
Tribal Health of the Confederated Salish and Kootenai Tribes provides comprehensive healthcare services to recipients including audiology/speech; behavioral health; dental; medical; nursing; optical; pharmacy; physical therapy; radiology; and wellness across a rich network on the Flathead Indian Reservation. Tribal Health is dedicated to a promise that every Tribal Health recipient receives high-quality healthcare grounded in tribal values — supporting each recipient's journey of "Being in a Good Way."