Friends raise 'dough' for baker fighting cancer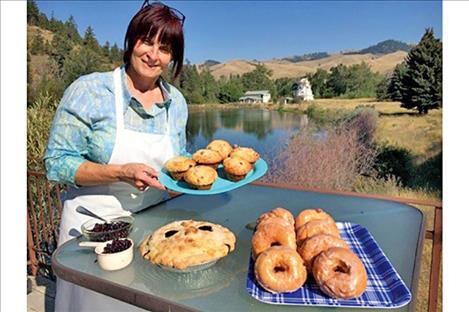 RAVALLI – Every summer the Windmill Village Bakery provides the community with irresistible treats, but this year the community is supporting the baker.
According to a GoFundMe page, owner and baker Nancy Martin was diagnosed with cancer in November 2018. The shop closed early for the 2018 season so Martin could be treated for her illness. The bakery normally opens again in April, but Martin is still undergoing treatment, so the business has remained closed this spring.
Martin said she has finished treatment for her illness and is waiting for test results to determine whether she is cancer free. If the tests show that she is healthy, Martin plans to open the bakery the second weekend in June. For now, she is building her strength and preparing the bakery to open.
The Windmill Village Bakery has been open since 2005 and is known for its huge, fluffy glazed donuts.
The message on the GoFundMe page from friend Kathy Abarr said the business counts on income from the summer months to support the family for the full year. The online fundraiser will offset medical costs not covered by insurance and the income lost while the bakery remains closed.
Each donation will be represented with a picture of a sweet treat signifying the size of the donation. These will be displayed in the window of the bakery.
Funds can be donated on the GoFundMe page at gofundme.com/will-you-help-us-raise-some-dough or sent by mail to Nancy Martin at 26715 US Highway 93, Ravalli, MT 59863.