Gale Decker not hired as Ronan cross-country coach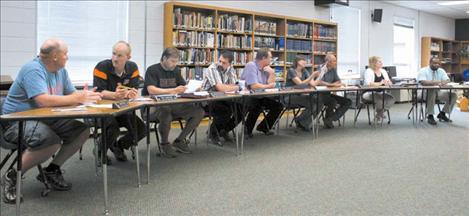 RONAN — Ronan School District No. 30 trustees voted 5-2 against hiring Lake County Superintendent of Schools Gale Decker as Ronan High School's assistant cross-country coach.
In an hour and a half special board meeting Aug. 6, Decker began by reading a lengthy statement regarding his proposed rehire and attempts to get on the board's agenda.
"I will admit that when I was not re-hired last year, it was a shock ... the message I was given was that my non-rehiring was not reflective of my coaching, but of my relationship with the board," he said.
In fact, his coaching was never brought into question by any board members or those in attendance at the meeting. On the contrary, several of Decker's colleagues and past athletes spoke on his behalf as a coach.
Decker's tension with the board seemed to go back many years, and while most board members agreed the decision was not about his coaching ability, they would not go into detail about past events, in an apparent effort to avoid rehashing old arguments.
"I would like to be able to clear the air, but I can't do that without casting Mr. Decker in a bad light, and that's not something I'm interesting in doing," board chair Chris Lynch said.
Trustee Carmel Couture said the decision was made for the general health of the staff rather than on Decker's coaching credentials, but stressed that the vote was not personal.
"I have nothing against Mr. Decker himself," she said. "I've been stressed about it for a week, and after the vote I thought I'd feel better, but I don't. I hope we didn't lose the trust in the community; I hope they trust that we're making the right decision, even though they don't see the whole picture."
Ronan schools superintendent Andy Holmlund, while he is not on the board and did not cast a vote, said coaches are employees of the district and he believes the basis for the decision was a breakdown in the employee-employer relationship.
Decker has submitted a volunteer application to continue working with the cross-country team. The application was denied by the high school principal, and is awaiting an appeal by superintendent Holmlund. Should Holmlund veto this appeal, the volunteer application would again go before the board. Decker does not believe the board would uphold the appeal, but says he's not done with the situation.
"Obviously I'm not happy with the board's decision," Decker said. "If it comes to legal action, that's the route I'll go."
Decker agreed that the board's decision was not based on his coaching, and believes it stemmed from comments and statements he'd made in past public meetings.
"We're a community here, and we all need to get along to make this work," Holmlund said. "I've lost sleep over this. The unfortunate truth is that it will divide people as I'm trying to bring everyone together and gear up for another school year."