Kiwanis members learn about hazards of vaping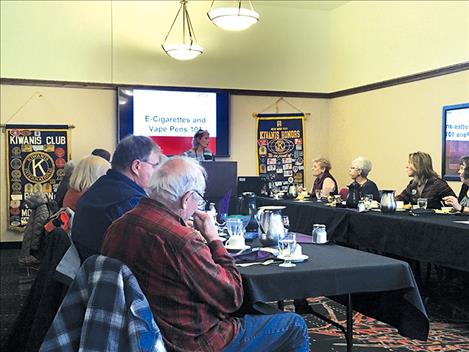 POLSON – With vaping being a common topic of discussion in public conversation, Polson Kiwanis Club members and guests had the opportunity on Thursday to learn about the hazards of vaping and why it can be dangerous.
"It's an epidemic and a crisis," said Lake County Public Health official Keryl Lozar. She spoke to the group during their monthly luncheon held at the KwaTaqNuk Resort. "Deaths are happening all over. We all need to be aware of the serious health risks vaping and e-cigarette use can cause."
E-cigarettes entered the marketplace about a dozen years ago and were advertised as a helpful device to wean smokers off tobacco. Since their introduction, e-cigarettes and vape pod systems have become a sensation among young people.
A recent Montana Youth Risk Behavior Survey published this year, which polled 3,879 high school students in 47 public high schools, found 58.3 percent of students have used some form of vaping products. According to numerous public health agencies, middle-schoolers are also getting hooked on the products.
Many health and parent groups have expressed their deep frustration with e-cigarette companies for promoting their products to teenagers by offering fruit and candy-flavored e-cigarette pods.
"It's not fair they make it tantalizing to our youth," said Lozar. "It's not just death that these kids have to worry about, it's also the long-term health and lung issues they are going to be living with all their lives."
Earlier this month, Montana Gov. Steve Bullock enacted emergency rules, which took effect on Tuesday, to ban flavored e-cigarette products that are marketed toward younger consumers.
While the health risks associated with the prolonged use of nicotine products are well documented, it's still not clear what specifically causes vaping-associated pulmonary illnesses. New research also suggests e-cigarette users might be inadvertently inhaling unsafe levels of toxic metals. Scientists say the tiny metal coils that heat the liquid nitrogen in e-cigarettes may contaminate the resulting vapor with lead, chromium, manganese and nickel.
"The thing that surprised me was all the metals that are in the vapor," said Lozar. "It's unbelievable."
These findings raise the possibility that "vaping" or "juuling" may not be as harmless or as a safe alternative to smoking as first advertised.
For more information concerning tobacco or nicotine, please go to www.QuitNowMontana.com or call 1-800-QUIT-NOW.