Tobacco prevention campaign focuses on COVID-19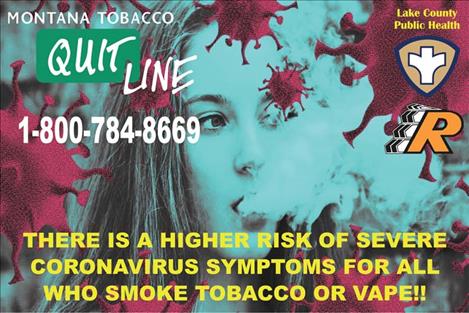 LAKE COUNTY – Eye-catching banners featuring warnings about the dangers of tobacco use can now be found in each of the county's school districts. The campaign reflects the strange times we're in by highlighting the connection between COVID-19 and tobacco use. The messages can be seen from a distance.
Each summer, Keryl Lozar, Lake County Tobacco Prevention Coordinator, works with local school districts to spread the word about the dangers of tobacco use to young people. This year, as summer programs and the return to in-person school are uncertain due to the COVID-19 pandemic, the program turned to posting banners as a more socially-distanced, pandemic-inspired method to share the message.
Lozar said the connection between being susceptible to serious illness due to COVID-19 and tobacco use is clear. Research shows that smoking and vaping weaken people's lungs, which makes it more likely that those who smoke or vape will have severe symptoms, and their recovery time will be longer than those who do not use those products. According to the research, smoking and vaping cause damage to people's respiratory systems, making them more susceptible to serious illness and death than those who do not smoke or vape.
The tobacco prevention program also aims to spread the word about resources that support people who want to stop using tobacco or vapes. One of the resources is the Montana Tobacco Quit Line, which can provide counseling, coaching and a personal quit plan. The quitline can also help connect tobacco users with free or reduced-price nicotine replacement therapy.
MyLifeMyQuit is a program designed for people 18 years old and younger, which provides tools and support for those 18 and younger trying to stop using tobacco products or e-cigarettes.
The QuitLine provides support tobacco cessation support for women and pregnant people. The American Indian Commercial Tobacco Quitline provides culturally informed support for Native American people working to quit using tobacco and vaping products.
In an email, Lozar said the program is intended to provide support for those who want to quit smoking in an unprecedented time. She said the goal is to "reach out to students, administration and community." She added that we are "all navigating the tentacles of COVID-19," and programs are available for people who need help to quit smoking or vaping.