Sports Shorts for Oct. 21, 2020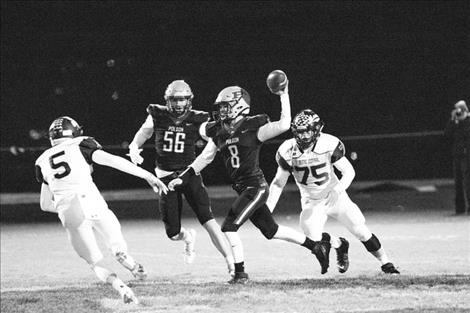 Cross Country
Ronan runner Brant Heiner won the boys' individual title at the Western A Fall Classic Cross Country meet with a time of 16:24.18. The event was held at Kalispell's Rebecca Farm on Saturday.
As a team, the Chiefs placed third. Michael Irvine finished ninth with a time of 17:26.72, and Zarec Couture finished 13th with a time of 18:08.07.
The top Polson Pirate finisher was Drifter Skillicorn in 18th with a time of 18:24.28, while as a team the Pirates placed fifth.
On the girls' side, the Polson Lady Pirates placed third in the team standings. Halle Heninger was the top runner for the Lady Pirates, finishing in eighth place with a time of 20:56.50. For the Ronan Maidens, Olivia Heiner placed 14th with a time of 21:37.88.
Football
Polson Pirates
Jarrett Wilson led the Polson Pirates to a 56-27 win over the visiting Butte Central Maroons on Friday night. Wilson threw six touchdowns completing 32 out of 46 passes for 500 yards. Wide receiver Colton Graham scored three touchdowns on 14 catches for a total of 217 yards.
Arlee Warriors
The Arlee Warriors came away with a 32-12 road win over the Seeley Swan Black Hawks on Friday evening.
Ronan Chiefs
On the road in Dillon on Friday, the Ronan Chiefs were blanked 53-0 by the Dillon Beavers in Class A football action.
Mission Bulldogs
The Mission Bulldogs' home football game on Friday against the Troy Trojans was canceled by Troy due to a lack of players to field a team.
Charlo Vikings
On Thursday in 14C action, the Charlo Vikings were shutout on the road, 22-0, by the Thompson Falls Blue Hawks.
Volleyball
Arlee Scarlets
The Arlee Scarlets picked up a 25-17, 25-18, 25-23 home win over the Deer Lodge Lady Wardens on Monday, Oct. 12. Jerny Crawford led the Scarlets with three aces, three kills and 16 digs. Shonlea Matt posted eight aces and four digs, and Rheid Crawford had 11 digs for Arlee.
On Thursday, the Scarlets fell 25-9, 25-13, 23-25, 25-18 on the road to the Anaconda Lady Copperheads. Scarlet Halle Adams scored an ace, nine kills, three blocks and eight digs. Jerny Crawford had three aces, two kills, two assists, a block and 16 digs. Matt had two aces and nine digs. Rheid Crawford had an ace and 17 digs.
The Scarlets wrapped up the week with a 25-18, 25-18, 25-8 win against the visiting Troy Lady Trojans on Saturday. For the Scarlets, Rheid Crawford had a team-high 17 digs. Xaria Johnson led with 16 assists, and Adams posted a team-high 12 kills.
Charlo Lady Vikings
The Charlo Lady Vikings, last week, postponed three scheduled volleyball matches due to mandatory 14-day COVID-19 quarantine protocols.
Mission Lady Bulldogs
On Tuesday, Oct. 13, the Mission Lady Bulldogs fell in straight sets 25-13, 25-15, 25-17 to the visiting Ronan Maidens. In a Class B conference showdown, the visiting Thompson Falls Lady Blue Hawks defeated the Lady Bulldogs 3-0.
Polson Lady Pirates
On Thursday, the Polson Lady Pirates battled the visiting Stevensville Lady Yellowjackets to a 25-19, 20-25, 25-23, 25-20 four-set win. Maggie Todd paced the Lady Pirates with 21 kills and 17 digs. Ara Mercer added 30 digs for the Lady Pirates while Berkley Ellis had 15 digs and 23 assists. Also for the Lady Pirates, Kobbey Smith posted nine kills and 12 digs.