Local school competitions continue from mat to court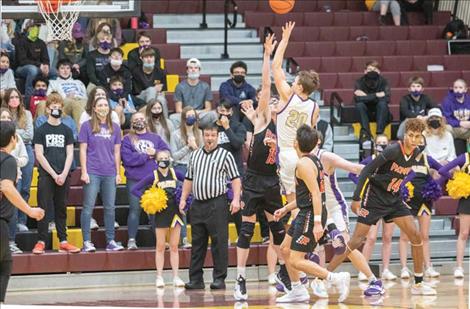 RONAN — Ronan and Polson high school athletic teams tangled on the mat and battled on the hardwood this past weekend with Polson prevailing in two of the three contests.
On Thursday evening, the Polson wrestling team claimed a 48-30 match victory over the hosting Ronan Chiefs. Polson picked up four pin wins in the match from Ryley Knutson (103) over Ian Dillard, Gavin Knutson (126) over Trevor Bartel, Caleb Pierre (152) over Julian Strait and Aaron O`Roake (285) over Max Morency.
The Chiefs posted three wins during the match-by-pin from Landon Bishop (138) over Noah Trosper, Caleb Cheff (145) over Xavier Pierre and Daniel Bishop (170) over Abel Kimmel. Ronan will look to even the score on the mat when the Pirates host the Chiefs on Feb. 19.
The Ronan Maidens started Friday's basketball home game against the Polson Lady Pirates with a two-game win streak. The Lady Pirates were looking for their first win of the year, but Ronan prevailed 70-29.
Friday's victory also marked the Maidens' eleventh consecutive win in the rivalry series. LaReina Cordova scored a season- and game-high 16 points to lead the Maidens to their sixth win on the year. Jaylea Lunceford scored 12 points, Lexi Wirz put up 11 and Leina Ulutoa chipped in 10. Jazlyn Dalbey paced the Lady Pirates with 10 points.
Bouncing back from their 54-46 basketball road loss to the undefeated Dillion Beavers earlier in the week, the Polson Pirates outpaced the visiting Ronan Chiefs 62-40 in Friday evening's matchup. The Pirates (7-1) lead in the series over Ronan (6-3), 9-0. Polson has won seven straight regular-season contests and two postseason games against the Chiefs. Colton Graham recorded a double-double for the Pirates in the win, finishing with a game-high 20 points and 10 rebounds. Jarrett Wilson scored 14 points. Xavier Fisher and Trevor Lake both chipped in 10 a piece.
For Ronan, Girma Detwiler led with a team high 12 points followed by Leonard Burke with 10 points. Defensively, the Chiefs blocked six shots and forced eight steals, while the Pirates forced 10 steals.
On Feb. 20, both schools will wrap up their regular seasons when the Maidens travel to Polson and the Pirates head to Ronan.