Diamonds and Heels show coming to Polson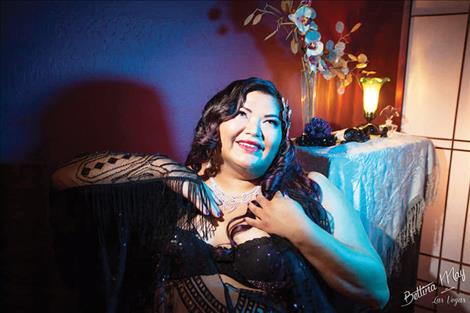 News from Dana Grant / SAFE Harbor
POLSON — Expressing oneself is a core value in America, even protected under the Constitution. Whether in art, dance or speech, the act of self-expression can inform, educate, and entertain. The last idea, entertainment is the main goal behind the upcoming Diamonds and Heels-Living Out Loud Pride Edition Burlesque and Drag Show, to be held at KwaTaqNuk Resort on Sept. 3. Delayed by the pandemic, this show is part of an annual series of similar themed programs hosted by SAFE Harbor since 2013. Over that time, SAFE Harbor has developed different incarnations, involving drag and burlesque with other activities, such as bingo, a murder mystery, art, crafts, and karaoke. They partner regularly with the Salish Kootenai College LGBTQ2+ Alliance, the Spirit of Many Colors.
"The goal has always been to promote inclusion and community," said SAFE Harbor Director of Development Dana Grant. "We have found interesting, fun ways to connect, while celebrating art and performance." This year's show will be all about the performers, with big name acts joining the show including a group who are ranked in the top 50 burlesque acts in America. One indigenous artist, Lou Lou, is rated number one in Canada. Other regional drag performers will also take the stage.
"It is going to be an outstanding night," Grant said. "The shows have lots of humor, creativity, and audience interaction." Producing and performing in the show will be Kayla Keplin, who is known as Violet Passion. She is a former SAFE Harbor advocate who now works with the Reason to Live Native Program, a suicide prevention and education project under the Confederated Salish and Kootenai Tribal Health Department. Keplin started performing with the local Black Satin Review in 2013, taking up burlesque as part of the Cigarette Girls Show starting in 2016. She is also a talented singer.
"Burlesque is the art of the tease," she said. "It can be storytelling, parody, rebellion, and empowerment. It's an exploration of your mind and body, and you decide what you want to share." She considers each act a talking point, requiring time to identify the concept, music, costumes, and props.
"Different people tell different stories. Yes, it can be fun to playfully strip out of your clothes, but even that takes art to draw people in," Keplin said. "It also has been used as a way to protest and share culture. It's an art form in the U.S., Canada, Europe, and worldwide." In her life, burlesque has been an important influence.
"I have used this art form to share my story of surviving domestic violence, and as a way to develop a connection with my body and heal from various trauma, I have lived through," she explained. "Violet is not just a stage persona. It is who I am. Violet helped me develop more self-confidence; it taught me how to uphold my boundaries and find a love for my body. Burlesque gave me a safe place to express myself in my most authentic way." Around the world, burlesque and drag shows have seen an uptick in the last few years. Keplin thinks it is partially about the power of music and dance to transform moods and emotions, while connecting people.
"Since it has been on television, people have more access to it; you can see how it has changed people, even when they try burlesque or drag for a day," she said. "It brings out a strength, power, and beauty people may not even realize they carry, or if they do know it's there, it gives them the courage to show it even for a little while. That authenticity, joy, and empowerment are lovely to watch and give others the courage to try." She thinks the show will offer people new ways to think about their own life. The Diamonds and Heels theme is a reflection of glitz and glam, both of which can be associated with burlesque and drag.
"This year's, Living Out Loud Pride Edition is a reminder to be authentically you. Live your truth," she said. "A friend reminded me that pride is every day. It is not just a month. Drag and burlesque is a place for many LGBTQ2+ people to express themselves. This will be a fun event that showcases some serious talent." For more information or tickets call 406-240-0640 or 406-207-1752 or by email to dana@safeharbormt.org.