Three local students achieve eagle scout rank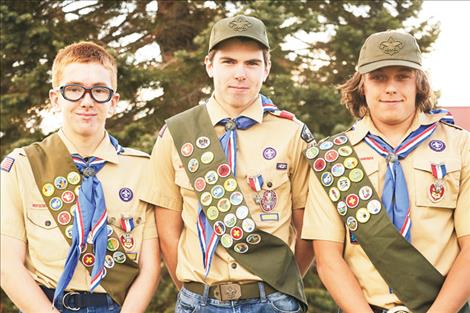 LAKE COUNTY — Three local students have completed their climb through the ranks of boy scouts to graduate as eagle scouts this year.
Sheldon McCloud, Harlon Leishman, and Kile Gowen were the three local eagle graduates this year. According to research from Scouts BSA - formerly Boy Scouts of America – only 4% of all scouts have earned this rank.
In order to reach eagle rank, a scout must:
— be active for at least six months
— show dedication to Scout Oath and Scout Law
— provide references from family, work, church, and other community groups
— earn 21 merit badges
— serve a minimum of six months in a leadership position
— attend a Scoutmaster conference
— pass a board of review, and
— propose, plan, and carry out an Eagle service project
McCloud chose to do his project at the Good Shepard Lutheran Church in Polson. A church he said he's been going to since he was about three years old, McCloud approached and asked their permission to revitalize the old playhouse on the church property. Not only did they agree, but they also funded the materials he needed to reconstruct the playhouse and give it a fresh coat of paint.
Leishman's project was done at Mission Valley United Methodist Church. The church had often let the boy scouts use the space, so he wanted to pay them back by refreshing the old backstop nearby to make it look nicer for churchgoers and those going by. Once the repainting was finished, he topped things off by putting together some benches for the area to be used for any activities that could be had there. The whole thing took him about a week, Leishman estimated.
Gowen decided to take on a project at his church as well, the Episcopal Church of Polson. After the Boys and Girls Club finished renting out the basement of the church, they left behind some raised garden beds. Gowen took on the endeavor of leveling them out, clearing out weeds, putting down ground barrier, and generally beautifying the area.
"(It's) more of the journey than the destination," Gowen said of becoming an eagle scout. "It was just a fun experience overall. I wanted to go as far as I could." Valuing the connections he'd been able to make along the way thanks to the scouts, Gowen described the experience as very worth it. "It's a good thing to get into and go all the way with," he added.
McCloud didn't plan to become an eagle scout at a young age, but with the support of his grandparents and mom, taking him to boy scout conferences and helping him keep up with his work, McCloud said he was able to keep up with it all and enjoy it. "I think boy scouts was one of those deals like getting good grades in school," McCloud said. "I wanted to get stuff finished to better myself and that's what boy scouts was for me."
A scout for the last nine years, Leishman said he decided to go for eagle scout so he could get a better job in the future if he decided to enlist in the military. Those who achieve the rank of eagle scout automatically receive a bump up in rank upon completion of basic training. What kept him going was going to camp with his troop members, a sentiment shared by the other graduates. They each cited their comradery as a factor that kept them going to the top rank of scouts.
"(Becoming an eagle scout) is worth it in the end," Leishman commented. "If you stick it out and just do everything, it's going to help you out later on."