Unique dog rescue organization in Arlee prioritizes both humans, animals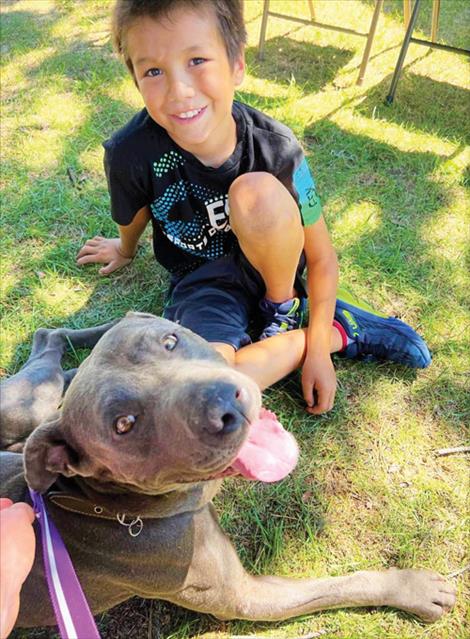 ARLEE — A non-traditional dog rescue in Arlee is growing to help both animals and their communities overcome a cycle of trauma.
The Arlee Rehabilitation Center (ARC) was founded by Executive Director Filip Panusz, a former employee of both the Missoula Humane Society and the Mission Valley Animal Shelter. Throughout his career, Panusz said he saw times when people made assumptions that dogs were neglected, abused and abandoned because people just didn't care about them. "My sense at the time from just having relationships with people and observing reality that this was kind of a misplaced assumption, that the truth was more complicated than that," Panusz explained. "(People) find themselves in situations which are often dictated by socioeconomic conditions … and people who are struggling and have sustained trauma, including historical trauma, they most often love their animals very, very dearly. They simply don't have the means to care for them."
From these observations, ARC was developed with a different model from the traditional animal rescue or shelter, aiming to be present within the community to help address trauma. Panusz pointed out that rescuing an animal out of a situation leaves the rest of the situation in place, and the trauma involved with a situation remains. "You can't bring healing to the animals unless you bring healing to the people. You can't separate those two issues. When people suffer animals suffer, when animals suffer people suffer," Panusz stated.
One recent case of ARC's he cited as an example, started with a dog he'd heard about that may have had puppies wandering in a remote area seeking food. Pursuing this led him to a remote home that had 53 dogs residing there.
The family had only started out with five or six dogs, but when they ran into some major family challenges that required their focus, the dog population just exploded. "They're dealing with this family situation, then on top of that they had this spiraling situation with these dogs, one feeds into the other and vice versa," Panusz said. "The human element, the fact they had these challenges with the family, certainly impacted the fact they didn't have the resources, or the time, or the emotional strength to give attention to the dog situation and stop it from spiraling. They were occupied with more important things, like (caring for) their kids."
While it was becoming a disaster for the family, Panusz explained, it would have become a disaster for the community as well had they not received help. Some of those 53 dogs were already pregnant - leading to a final total of 77 dogs for ARC to help handle - a population that would have escalated into the hundreds within a few months without interference. This would have impacted vet clinics, nonprofits, and the broader community in the area as well, absorbing the resources of that population. "It was going to pretty quickly spiral into disaster if we hadn't stepped in," Panusz stated.
In total, this case cost them around $10,000 to spay and neuter the animals, get them vaccinated, provide food and transportation and take care of some other medical necessities as well for the dogs. Some dogs and puppies from that case are still looking for homes, all of which can be found under the organization's name on PetFinder.com
In addition to their casework within the community, ARC held two "Pawsitively Healing" summer camps for kids this year to bring kids, who in many cases have experienced trauma, together with animals. The animals help to teach them about building resiliency, stress management, and the importance of humane communication.
ARC also offers three programs year-round: the Canine Healing Experiment, Paws on the Ground, and the Spay/Neuter Taskforce. The Healing Experiment provides rehabilitation for Reservation dogs while also providing animal-assisted and culturally-specific therapy to both children and adults. Paws on the Ground aims to empower underserved communities through community liaisons and volunteers working to identify local residents and animals in crisis and connect them to ARC support services. Finally, the Spay/Neuter Taskforce primarily carries out a trap and release program with bimonthly spay and neuter clinics for community cats on the Reservation, while also offering additional low-income veterinary support. These programs, Panusz said, bracket the overall mission of ARC, and none can function without the other.
While they were able to recoup some of their costs, from what Panusz described as "an intense year," during the recent Giving Tuesday in which they received around $15,000 in donations, ARC is still in need of support.
While ARC is moving in the direction of having their own facility, they currently operate on a foster care network, and are always in need of help fostering their dogs. Applications to foster are available on their website at: k9arc.org. Tax-deductible donations are also accepted on the website year-round.
On Feb. 11, ARC will hold its second ever fundraiser gala. They'll be selling tickets, needing volunteers, and looking for item donations for auctions held during the event. The previous year saw them bring in about $30,000, which empowered them to do things for the community throughout the year. This year, they hope to raise $50,000 to do even more. Updates for the fundraiser can be found on their Facebook page at: facebook.com/ArleeRehabilitationCenter. Updates about an upcoming distribution of pet food to low-income families can also be found on their Facebook page.
"This is a unique model," Panusz stated. "It's as much about the humans as it is about the animals … We appreciate all the support we get."