Polson man celebrates 90 years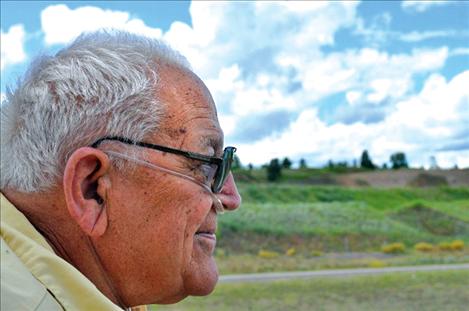 POLSON — "Harding was still president," Melvin "Mel" Mohler said, of his birth on Oct. 25, 1922. "I've gone through 17 presidents."
Polson resident Mohler said one of his fondest memories was listening to Herbert Hoover's inauguration on the radio at school. His family did not have a radio, so it was a special treat.
"Hoover said 'a chicken in the pot on every Sunday and a 5-cent cigar,''' Mohler said.
The crowd cheered, and the announcer interrupted with news that the U.S. Army was doing a flyover, with three planes in formation, Mohler said, an entirely new idea.
Mohler will be turning 90 in about a week and a half and is looking forward to a birthday lemon meringue pie made by Viktra Bumgarner.
Viktra and her husband Chris, members of Mohler's church, New Life Christian, live with him and help with physical tasks.
He also said his neighbor, Brenda Borchers, should get "citizen of the year" for helping him out.
Mohler has many friends, and at least 50 percent of the kids at New Life Christian call him "Grandpa Mel," the Bumgarners said.
Mohler grew up as one of 11 children on a farm near Octavia, Neb. The Mohler family grew corn, but also milked a big herd of dairy cows and raised pigs.
"It was a fun family," he said, remembering water fights, playing "Annie over the house" and other games.
When Mohler was a senior in high school, his family moved to David City and he graduated from high school there. After high school, he worked the harvests for a couple of years and then married his sweetheart, Edna, on Oct. 14, 1945.
"The first thing she told me was 'You're going back to school,'" Mohler said.
He questioned her, asking how in the world he would pay for it.
"She said, 'I'll earn it,'" Mohler said.
Edna worked in the University of Nebraska's dairy department, keeping track of the dairy routes and accounting, while Mohler studied and played football for the University of Nebraska, "tackle, both offense and defense," he said, and worked during the summers.
He earned his degree in vocational agriculture and taught in Nebraska. He and Edna adopted two children, Michael and Marian.
Faith was always central in the Mohlers' lives.
"Oh, my, when I was going to the U of N, I was Sunday school teacher and youth leader and just continued through all the churches we attended," Mohler said.
After Nebraska, the Mohlers moved to Miles City, and Mel worked at Pine Hills Youth Correctional Facility for 13 years.
Then he became the superintendent of the Swan River Forest Youth Camp, a youth correctional program.
"Well, let me tell you that we based our whole program on 'love' and 'no,'" Mohler said. "It was always in the back of my mind. We weren't there to punish those kids; we were there to help them."
"There is therapy in work if it's good, important work," Mohler said.
And the young men sentenced to the program worked hard, and under supervision cleaned up the Swan forest, planted thousands of trees and cleaned up after forestry jobs. They had more successes than not, he added, although it wasn't all roses and honey.
About 10 years ago, he was still getting calls from kids asking for help getting a job and getting advice for personal issues.
He and Edna had a nice place in the Swan, and Edna learned to cope with the bears, deer and mountain lion. For a couple of years before Mohler retired, the couple looked at Bigfork and Kalispell but settled on Polson when someone told them about the house being built at 506 21nd Ave. W. Mohler believes the Lord led them to the house.
Mohler still lives there and will be celebrating his birthday a few days early, on Sunday, Oct. 21, from 2 to 4 p.m. All his friends are invited, but no gifts, please.